One Small Place in a Tree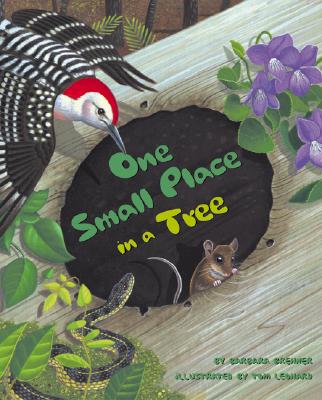 One Small Place in a Tree
HarperCollins Publishers, Hardcover, 9780688171803, 32pp.
Publication Date: March 16, 2004
* Individual store prices may vary.
Buy Now
or
Shop Local
Enter your zip code below to purchase from an indie close to you.
Description
Deep in the forest . . .
A bear sharpens her claws on a tree trunk. The scratched bark chips; a tiny hole forms. Timber beetles tunnel inside. The hole grows bigger and bigger.
In lyrical prose, Barbara Brenner reveals the fascinating happenings in one small place. She explains how, over many years, the rough hole transforms into a cozy hollow -- home to salamanders, tree frogs, a family of white-footed mice. Tom Leonard's absorbing illustrations take you beneath the bark to a hidden world. His warm, lifelike depictions of squirrels and bluebirds, snakes and spiders show the splendor that dwells in the most unexpected places.
So stop. Observe. Explore your natural world. If you look closely enough, you will surely find . . . one small place that is home for something.
About the Author
Barbara Brenner's curiosity about the world ranges far and wide. Her interests are reflected in the wide scope of her quality fiction and nonfiction. Some of her best-selling titles include "Wagon Wheels" and "Voices: Poetry and Art from Around the World, " which was an ALA Notable Book for Children and an ALA Best Book for Young Adults. "One Small Place in a Tree" is a companion book to the striking "One Small Place by the Sea. "Barbara Brenner lives with her husband, artist Fred Brenner, in Hawley, Pennsylvania.

Tom Leonard has been a freelance illustrator for more than 20 years. A graduate of the Philadelphia College of Art (now called the University of the Arts) with a degree in Illustration, he has worked for numerous publications throughout his career, including Psychology Today, Reader s Digest, International Wildlife, and Science Digest. Since 1993 he has focused on children s books, usually with a view toward nature. Tom has had several shows throughout Philadelphia, and his work has appeared in the Graphis Annual and the Society of Illustrators. Tom teaches at the University of the Arts and also teaches summers at Fleisher Art Memorial, where he has exhibited his work on several occasions. Tom lives in South Philadelphia with his wife, Rose.