Wild Man Island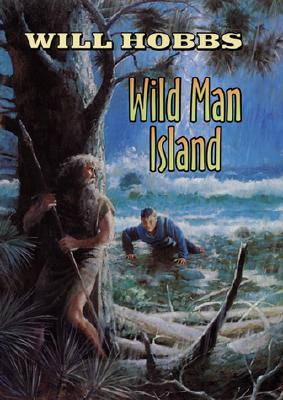 Wild Man Island
HarperCollins Publishers, Hardcover, 9780688174736, 184pp.
Publication Date: April 16, 2002
* Individual store prices may vary.
Buy at Local Store
Enter your zip code below to purchase from an indie close to you.
or
Not Currently Available for Direct Purchase
Description
The land was slipping away,
the wind was howling,
and I was in a world of trouble.
0n the last day of a sea kayak trip in southeast Alaska, fourteen-year-old Andy Galloway paddles away from the group. He's on a mission of the heart. His father, an archeologist, died only a few miles away. A sudden gale propels Andy across the strait. He swims ashore, freezing and barefoot, onto Admiralty Island, an immense wilderness of forests, rain, and bears.
When hope of rescue fades, Andy starts walking. Starvation leads him further into the wild and into danger. He encounters a dog running with wolves, and later a man dressed in cedar-bark clothing, carrying a stone-tipped spear. The Wild Man vanishes into the forest, but the dog reappears and leads Andy to ... the Wild Man's lair, at the mouth of a cave.
It's fear that drives Andy into the cave and to the adventure of a lifetime. What's at stake are the discoveries Andy's father died trying to find, the answers to the most exciting puzzle in American archeology -- who were the first Americans?
About the Author
Will Hobbs is the award-winning author of nineteen novels, including Far North, Crossing the Wire, and Take Me to the River.
Never Say Die began with the author's eleven-day raft trip in 2003 down the Firth River on the north slope of Canada's Yukon Territory. Ever since, Will has been closely following what scientists and Native hunters are reporting about climate change in the Arctic. When the first grolar bear turned up in the Canadian Arctic, he began to imagine one in a story set on the Firth River.
A graduate of Stanford University, Will lives with his wife, Jean, in Durango, Colorado.
William Hobbs (aka William Ashanti Hobbs, III) is from Fort Lauderdale, Florida by way of Atlanta, GA. While attending Florida A&M University (FAMU), the college junior was inspired to publish Pseudonymous, a collection of short stories and poems and the novel "The Chosen People: Africa's Lost Tale of Meroe," all in the same year. Sales allowed Hobbs to publish " Unconditionally " in 1996 as he graduated from FAMU. Hobbs' passion for writing and won him a McKnight Fellowship, which allowed him to pursue a masters and doctorate degree in creative writing from Florida State University (FSU). He graduated from FSU in 2004 and now teaches Creative Writing at Florida Memorial University. Hobbs has published an essay and poem in Journey into a Brother's Soul by Kimani Press. Hobbs is married to Dr. Tameka Hobbs and has two sons, Ashanti and Amiri. The martial arts lover enjoys his foray into blogging williamhobbs247.wordpress.com, is forever noodling with a guitar and exploring filmmaking with his first film short, "North of the Grove." www.northofthegrove.com His goal for filmmaking: "to help bring the visions and dreams of others to film and video."