Horace and Morris But Mostly Dolores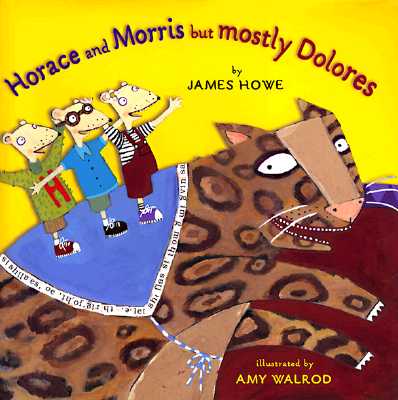 Horace and Morris But Mostly Dolores
Atheneum Books, Hardcover, 9780689318740, 32pp.
Publication Date: March 1999
* Individual store prices may vary.
Shop Local
Enter your zip code below to find indies closest to you.
Description
Horace, Morris, and Dolores do everything together and know that they will be Friends Forever...until one day, when Horace and Morris become part of an exclusive boys' club and Dolores finds herself left out. Soon, she, too, finds her own club, where no boys are allowed and girls are supposed to have fun doing girl stuff. But after a while, Horace and Morris and Dolores realize they aren't happy at all doing what everyone in their clubs seems to enjoy. They miss each other. Is it too late to be friends again?
Join these three charming mouse friends as they learn to do what they like, rather than what others say they should like.
About the Author
James Howe is the acclaimed author of more than seventy books for young readers, including the much-lauded "Bunnicula "and its sequels. He lives in Yonkers, New York.
"From the Audiobook Download edition."
James Howe is the author of more than ninety books for young readers, including the modern classic Bunnicula" and its highly popular sequels. In 2001, Howe published The Misfits", the story of four outcast seventh-graders who try to end name-calling in their school. The Misfits is now widely read and studied in middle schools throughout the country, and was the inspiration for the national movement known as No Name-Calling Week (NoNameCallingWeek.org), an event observed by thousands of middle and elementary schools annually. There are three companion novels to The Misfits" Totally Joe "(2005), Addie on the Inside "(2011), and Also Known as Elvis "(2014). Howes many other books for children from preschool through teens frequently deal with the acceptance of difference and being true to oneself.
Steve Johnson and Lou Fancher are an illustration team with more than forty picture books in print. Their work has garnered rave reviews and won awards. Their books include My Many Colored Days, Bebop Express, I Walk at Night, New York's Bravest, The Velveteen Rabbit, and The Salamander Room. They were also concept artists for Pixar's Toy Story and A Bug's Life. They live in California with their son.