Bunnicula Strikes Again!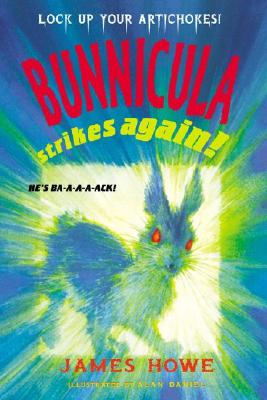 Bunnicula Strikes Again!
Atheneum, Paperback, 9780689814624, 128pp.
Publication Date: June 1, 2001
* Individual store prices may vary.
Buy at Local Store
Enter your zip code below to purchase from an indie close to you.
or
Not Currently Available for Direct Purchase
Description
It's happening again. The Monroes's kitchen is littered with the remains of vegetables, drained of all color. To Chester, it's obvious: Bunnicula, the vampire rabbit, is up to his old tricks.
But Harold is more frightened for Bunnicula than of him. The poor bunny doesn't look too good. Is he sick? Or just unhappy? Or has Chester finally gone too far in his attempt to make the world safe for veggies?
One thing's for sure: Harold isn't going to let anything bad happen to his long-eared pal -- even if it means leaving the comfort of his home, losing his best friend, and risking his own life. And if he fails -- could this be the end of Bunnicula?
Don't miss any of the adventures of Harold, Chester, Howie, and the vampire bunny, Bunnicula
About the Author
James Howe is the author of more than seventy books for young
readers, including the popular and award-winning series about Bunnicula
and his friends. Among his other books are the Pinky and Rex series,
The Misfits, Totally Joe, and the Sebastian Barth mysteries.
James did not enjoy camping when he was a boy, but he did always wish he
had a pet skunk. He still does wish this at times, but for the most part
he's happy with the dog and two cats who share his home in New York State.
James Howe says:
"Back in the Olden Days, before there were such things as cable television
or DVDs, I loved staying up late at night to watch old horror movies on TV.
My favorites were the ones about hollow-eyed vampires and torch-bearing
peasants, or those with mad scientists whose accents fell somewhere
between Upper Mongolia and the Bronx. Nighty-Nightmare came out of
the affection I still feel for those movies and the laughs -- along with
the chills -- they gave me. Chester's story of how Bunnicula traveled from
Transylvania to America is a spoof of just about every old horror movie
I ever saw!"