Fever 1793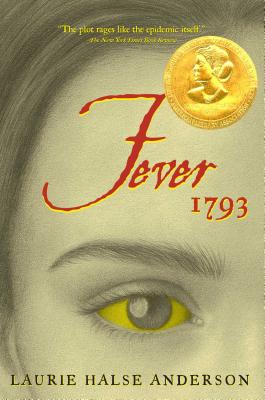 Fever 1793
Simon & Schuster Books for Young Readers, Hardcover, 9780689838583, 256pp.
Publication Date: September 1, 2000
* Individual store prices may vary.
Buy Now
or
Shop Local
Enter your zip code below to purchase from an indie close to you.
Description
From Fever 1793

"Where's Polly?" I asked as I dropped the bucket down the well. "Did you pass by the blacksmith's?


"I spoke with her mother, with Mistress Logan," Mother answered softly, looking at her neat rows of carrots.


"And?" I waved a mosquito away from my face.


"It happened quickly. Polly sewed by candlelight after dinner. Her mother repeated that over and over, 'she sewed by candlelight after dinner.' And then she collapsed."


I released the handle and the bucket splashed, a distant sound.


"Matilda, Polly's dead."


August 1793. Fourteen-year-old Mattie Cook is ambitious, adventurous, and sick to death of listening to her mother. Mattie has plans of her own. She wants to turn the Cook Coffeehouse into the finest business in Philadelphia, the capital of the new United States.


But the waterfront is abuzz with reports of disease. "Fever" spreads from the docks and creeps toward Mattie's home, threatening everything she holds dear.


As the cemeteries fill with fever victims, fear turns to panic, and thousands flee the city. Then tragedy strikes the coffeehouse, and Mattie is trapped in a living nightmare. Suddenly, her struggle to build a better life must give way to something even more important -- the fight to stay alive.
About the Author
Laurie Halse Anderson is a "New York Times" bestselling author of books for kids of all ages--including "Speak", "Fever 1793", "Chains", "Twisted", and many others. Known for tackling tough subjects with humor and sensitivity, her work has earned numerous national and state awards, as well as international recognition. Two of her books, "Speak" and" Chains", were National Book Award finalists. Anderson was honored with the 2009 Margaret A. Edwards Award given by the YALSA division of the American Library Association for her "significant and lasting contribution to young adult literature." Anderson was born in Potsdam, New York in 1961. Growing up, she loved reading and listening to family stories. She graduated from Georgetown University in 1984. Before becoming a full-time writer, she was freelance journalist, and then worked part-time at a bookstore to earn money while working on her fiction. Mother of four and wife of one, Laurie lives in northern New York, where she likes to watch the snow fall as she writes.