Heidi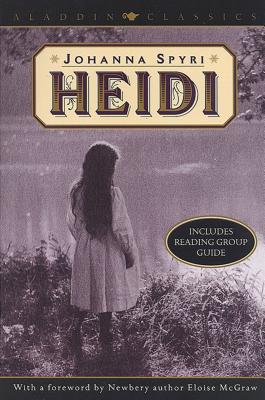 Heidi
Aladdin, Paperback, 9780689839627, 304pp.
Publication Date: November 1, 2000
* Individual store prices may vary.
Buy Now
or
Shop Local
Enter your zip code below to purchase from an indie close to you.
Description
Orphaned Heidi lives with her gruff but caring grandfather on the side of Swiss mountain, where she befriends young Peter the goat-herd. She leads an idyllic life, until she is forced to leave the mountain she has always known to go and live with a sickly girl in the city. Will Heidi ever see her grandfather again? A classic tale of a young girl's coming-of-age, of friendship, and familial love, Heidi has inspired countless dramatic versions, both on TV and in film, including Shirley Temple's famous 1937 version.
About the Author
Johanna Spyri was a Swiss author of children s stories, best known for the classic coming-of-age tale Heidi: the Girl from the Alps. Spyri spent several summers in and around the mountainous area of Graub?nden as a child, and the Alps would serve as inspiration for much of her writing. Upon moving to Zurich with her husband, where she would remain for the rest of her life, Spyri published her first story, Ein Blatt auf Vronys Grab ( A Note on Vrony s Grave ), a gritty tale of a woman suffering from the abuse of her alcoholic husband. Yet it would be in children s writing that Spyri would truly make her markHeidi was published to great international acclaim in 1880, and has gone on to become one of the best-selling children s classics of all time. In 1884, both Spyri s husband and only child passed away, and Spyri devoted herself to charitable causes for the remainder of her life, writing fifty more stories before her own death in 1901.

McGraw, recipient of the 1996 C. E. S. Wood award for Lifetime Achievement.