The Salem Witch Trials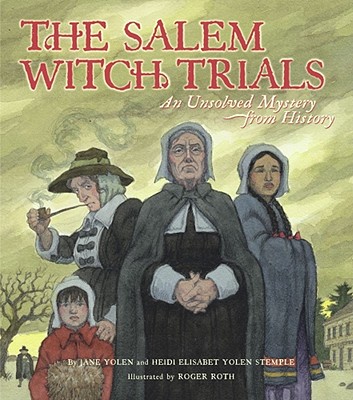 The Salem Witch Trials
An Unsolved Mystery from History
Simon & Schuster Books for Young Readers, Hardcover, 9780689846205, 32pp.
Publication Date: September 1, 2004
* Individual store prices may vary.
Buy at Local Store
Enter your zip code below to purchase from an indie close to you.
or
Buy Here
Description
In 1692 Salem, Massachusetts, witnessed one of the saddest and most inexplicable chapters in American history.
When a group of girls came down with a horrible, mysterious bout of illness, the town doctor looked in his medical books but failed to find a reasonable diagnosis. Pretty soon everyone in town was saying the same thing: The girls were ill because they were under a spell, the spell of witchcraft! And still, the question remains: Why did the hysteria occur? The townspeople had many things to worry about back then: smallpox, strife with the local Indians, a preacher demanding higher wages, and the division of land in the community. But did all of those problems justify a witch hunt?
Become a detective as you read this true story, study the clues, and try to understand the hysteria! The Unsolved Mystery from History series is written by acclaimed author Jane Yolen and former private investigator Heidi Elisabet Yolen Stemple. This is an innovative history lesson that's sure to keep kids thinking throughout.
About the Author
Jane has been called the Hans Christian Andersen of America and the Aesop of the twentieth century. She sets the highest standard for the industry, not only in the meaningful body of work she has created, but also in her support of fellow authors and artists. Her books range from the bestselling How Do Dinosaurs series to the Caldecott winning Owl Moon to popular novels such as The Devil s Arithmetic, Snow in Summer, and The Young Merlin Trilogy, to award-winning books of poetry such as Grumbles from the Forest, and A Mirror to Nature. In all, she has written over 335 books (she s lost count), won numerous awards (one even set her good coat on fire), and has been given six honorary doctorates in literature. For more information, please visit www.janeyolen.com.
Poet, novelist, storyteller, and picture-book author "Jane Yolen" has won five awards for her body of work in children's literature: the Regina Medal, the Kerlan Award, the Keene State Award, the Boston Public Library's Literary Lights for Children Award, and the Anna V. Zarrow Award. Her many books include "Owl Moon, " which won the Caldecott Medal, "Moon Ball, " and "Where Have the Unicorns Gone?" Her daughter, "Heidi Elisabet Yolen Stemple", has worked as a parole officer and a private investigator, and wrote "Meet the Monsters" with Jane Yolen. The two also collaborated on "The Wolf Girls: An Unsolved Mystery from History" and "The Mary Celeste: An Unsolved Mystery from History."
Jane and Heidi both live in Hatfield, Massachusetts. Visit the authors at www.JaneYolen.com and www.HeidiStemple.com
Roger Roth, Sr., has partnered with Dr. Hanby in his ministry and writing for many years. Together they oversee Mark Hanby Ministries/Fathers Heart Ministries, an internationally recognized teaching and resource center.