Independent Dames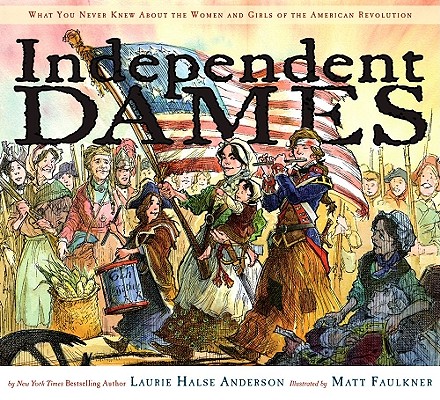 Independent Dames
What You Never Knew about the Women and Girls of the American Revolution
Simon & Schuster Books for Young Readers, Hardcover, 9780689858086, 37pp.
Publication Date: June 3, 2008
* Individual store prices may vary.
Buy at Local Store
Enter your zip code below to purchase from an indie close to you.
or
Buy Here
Description
Listen up! You've all heard about the great men who led and fought during the American Revolution; but did you know that the guys only make up part of the story? What about the women? The girls? The dames? Didn't they play a part?
Of course they did, and with page after page of superbly researched information and thoughtfully detailed illustrations, acclaimed novelist and picture-book author Laurie Halse Anderson and charismatic illustrator Matt Faulkner prove the case in this entertaining, informative, and long overdue homage to those independent dames!
About the Author
Laurie Halse Anderson is a "New York Times" bestselling author of books for kids of all ages--including "Speak", "Fever 1793", "Chains", "Twisted", and many others. Known for tackling tough subjects with humor and sensitivity, her work has earned numerous national and state awards, as well as international recognition. Two of her books, "Speak" and" Chains", were National Book Award finalists. Anderson was honored with the 2009 Margaret A. Edwards Award given by the YALSA division of the American Library Association for her "significant and lasting contribution to young adult literature." Anderson was born in Potsdam, New York in 1961. Growing up, she loved reading and listening to family stories. She graduated from Georgetown University in 1984. Before becoming a full-time writer, she was freelance journalist, and then worked part-time at a bookstore to earn money while working on her fiction. Mother of four and wife of one, Laurie lives in northern New York, where she likes to watch the snow fall as she writes.

Matt Faulkner is a talented and clever picture-book maker whose dazzling ink and watercolor illustrations have graced dozens of well-loved picture books. On his inspiration for "A Taste of Colored Water, " he says, "When I was a boy it would've surprised me to learn that the word COLORED hung over a water fountain didn't mean that this was a magical place where fruit-flavored water flowed on demand." This story has grown out of his lifelong exploration of race and societal intolerance and the questions these institutions raise. His more recent work features several titles that focus on United States history, including "Thank You, Sarah" by Laurie Halse Anderson and "You're on Your Way, Teddy Roosevelt" by Judith St. George. He lives in Oakland, California, with his son.
Praise For Independent Dames…
"A stirring portrait of the women who made America possible.
Beginning with the scene of a school play about the Founding Fathers, Anderson declares that if we look only at them we are missing half of the story. Then she begins with small vignettes of some of our heroines. Sybil Ludington rode longer than Paul Revere and didn't get caught! The Daughters of Liberty make an appearance, along with nine-year-old Susan Boudinot who protested at a tea party of the Royal Governor. Writers (Phyllis Wheatley), soldiers (Deborah Sampson), spies, scouts, nurses, and the wives of the patriots all get their due via a small fact and portrait....
[Anderson] keeps the text lively and encourages young readers to find out more. At the bottom of each picture Anderson includes a timeline of events and defines some of the terms, making the book even more information rich. At the end of the forty-page book, she adds material on other women and a great bibliography. This short text lends itself to all kinds of activities or acts simply as a supplement for more traditional texts. Anderson's research is thorough and her understanding of young readers, as always, is profound. When I conducted an informal poll of school librarians and teachers, Independent Dames emerged as their favorite book for Women's History Month. Writing with passion and humor, Laurie Halse Anderson is on a mission to set the record straight. And she does!"

-Anita Silvey