Scarlet Moon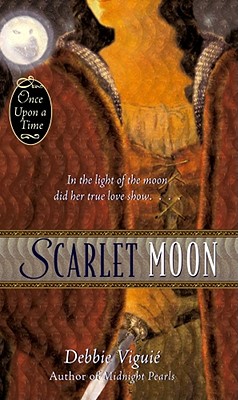 Scarlet Moon
Simon Pulse, Mass Market Paperbound, 9780689867163, 176pp.
Publication Date: April 1, 2004
* Individual store prices may vary.
Buy Now
or
Shop Local
Enter your zip code below to purchase from an indie close to you.
Description
The True Face of Love
Ruth's grandmother lives in the forest, banished there for the "evil" that the townsfolk believed she practiced. But if studying the stars, learning about nature, and dreaming of flying is evil, then Ruth is guilty of it too. Whenever Ruth took food and supplies to her grandmother, she would sit with the old woman for hours, listening and learning.
When she wasn't in the woods, Ruth was learning the trade of her father, a blacksmith, now that her brother would never return from the Crusades.
Amidst those dark days, a new man enters Ruth's life. William is a noble with a hot temper and a bad name, and he makes her shiver. But the young man is prey to his heritage, a curse placed on his family ages ago, and each male of the family has strange blood running in his veins. Now Ruth must come face-to-face with his destiny at Grandma's house
About the Author
Debbie Viguie has been writing for most of her life and holds a degree in creative writing from U.C. Davis. Debbie loves theme parks and has worked at both Knott s Berry Farm and Disneyland in California. When Debbie is not busy writing she enjoys traveling with her husband Scott. Debbie grew up in the San Francisco Bay Area and now lives in Hawaii.

Debbie Viguie's Simon Pulse books include the "New York Times" bestselling Wicked series and the Once upon a Time novels "Violet Eyes", "Scarlet Moon", and "Midnight Pearls". She lives in Florida with her husband, Scott. Visit her at DebbieViguie.com.

Kinuko Y. Craft has won more than one hundred graphic-arts awards, including five gold medals from the Society of Illustrators. In 2008, she was inducted into their Hall of Fame. Her art has been in print for almost half a century, appearing on the covers of such prestigious publications as Time and Newsweek. Her illustrated books on Greek myths and of classic fairy tales have been published in the United States and other English-language countries, and in Europe, China, and Korea. Says Kirkus Reviews, "Every detail of her work the flowers by a spring, a red cloak unfurled against a blue sky, moonlight on a tiger's back is beautifully rendered." Beauty and the Beast is her ninth illustrated book.