The Grand Escape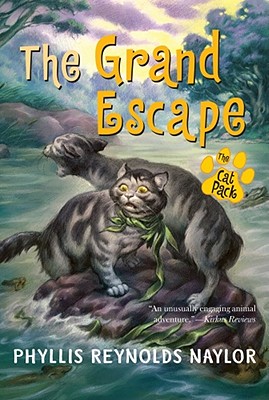 The Grand Escape
Atheneum Books for Young Readers, Paperback, 9780689874079, 160pp.
Publication Date: May 2005
* Individual store prices may vary.
Shop Local
Enter your zip code below to find indies closest to you.
Description
It's a scary world out there.
If only Marco hadn't read a newspaper article about a ranch and become determined to see one. If only Polo hadn't found himself longing for the mother he barely remembered as a soft-warm-wiggle-purr-milk-tongue. Then the two tabbies might have been content to remain pampered house cats forever. But when their owners leave a door open, Marco and Polo can't resist the temptation to escape to the outside world.
Their search for food and a dry place to sleep leads them to Texas Jake and the cats of the Club of Mysteries. Life on the streets is a lot easier with friends, but Marco and Polo have to prove themselves before they can become members of the club. And that means facing the huge mastiff Bertram the Bad, a pack of savage river rats, and a barren landscape that may be the ranch of Marco's dreams -- even if it seems more like a nightmare. Home is starting to look better and better...
Don't miss any of The Cat Pack's adventures.
About the Author
Phyllis Reynolds Naylor has written more than 135 books, including the Newbery Award-winning "Shiloh "and the Alice series. She lives in Gaithersburg, Maryland. To hear from Phyllis and find out more about Alice, visit AliceMcKinley.com.

Alan Daniel works for publishers across North America from his Kitchener, Ontario, studio. His art is notable for its fine draftsmanship, humor and versatility of style. He is the illustrator of many children's picture books, including Bunnicula: Return to Howliday Inn, Good Families Don't, The Grand Escape, The Healing of Texas Juke and Carlotta's Kittens. Alan Daniel often collaborates with partner Lea Daniel.