Charles Darwin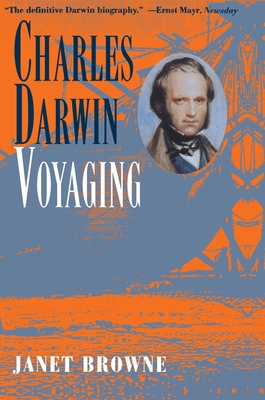 Charles Darwin
Voyaging
Princeton University Press, Paperback, 9780691026060, 656pp.
Publication Date: April 1996
* Individual store prices may vary.
Buy Now
or
Shop Local
Enter your zip code below to purchase from an indie close to you.
Description
Few lives of great men offer so much interest--and so many mysteries--as the life of Charles Darwin, the greatest figure of nineteenth-century science, whose ideas are still inspiring discoveries and controversies more than a hundred years after his death. Yet only now, with the publication of "Voyaging, " the first of two volumes that will constitute the definitive biography, do we have a truly vivid and comprehensive picture of Darwin as man and as scientist. Drawing upon much new material, supported by an unmatched acquaintance with both the intellectual setting and the voluminous sources, Janet Browne has at last been able to unravel the central enigma of Darwin's career: how did this amiable young gentleman, born into a prosperous provincial English family, grow into a thinker capable of challenging the most basic principles of religion and science? The dramatic story of "Voyaging" takes us from agonizing personal challenges to the exhilaration of discovery; we see a young, inquisitive Darwin gradually mature, shaping, refining, and finally setting forth the ideas that would at last fall upon the world like a thunderclap in "The Origin of Species."

About the Author
Janet Browne is Professor in the History of Biology at the Wellcome Trust Centre for the History of Medicine at University College London and is currently President of the British Society for the History of Science. She is the author of several books, including "Charles Darwin: Voyaging" (Princeton), and has served as Associate Editor of The Correspondence of Charles Darwin.

Charles Darwin was an English naturalist and author best-known for his revolutionary theories on the origin of species, human evolution, and natural selection. A life-long interest in the natural world led Darwin to neglect his medical studies and instead embark on a five-year scientific voyage on the HMS Beagle, where he established his reputation as a geologist and gathered much of the evidence that fuelled his later theories.A prolific writer, Darwin s most famous published works include The Voyage of the Beagle, On the Origin of Species, The Descent of Man, and Selection in Relation to Sex, and The Expression of Emotions in Man and Animals. Darwin died in 1882, and in recognition of his contributions to science, is buried in Westminster Abbey along with John Herschel and Isaac Newton.