Hope and Memory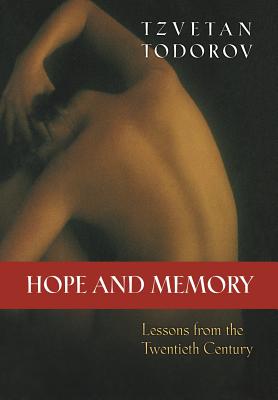 Hope and Memory
Lessons from the Twentieth Century
Princeton University Press, Hardcover, 9780691096582, 368pp.
Publication Date: October 2003
* Individual store prices may vary.
Buy Now
or
Shop Local
Enter your zip code below to purchase from an indie close to you.
Description
Both a political history and a moral critique of the twentieth century, this is a personal and impassioned book from one of Europe's most outstanding intellectuals. Identifying totalitarianism as the major innovation of the twentieth century, Tzvetan Todorov examines the struggle between this system and democracy and its effects on human life and consciousness.

Totalitarianism managed to impose itself because, more than any other political system, it played on people's need for the absolute: it fed their hope to endow life with meaning by taking part in the construction of a paradise on earth. As a result, millions of people lost their lives in the name of a higher good. While democracy eventually won the struggle against totalitarianism in much of the world, democracy itself is not immune to the pitfall of do-goodery: moral correctness at home and atomic or "humanitarian" bombs abroad.

Todorov explores the history of the past century not only by analyzing its spectacular political conflicts but also by offering moving profiles of several individuals who, at great personal cost, resisted the strictures of the communist and Nazi regimes. Some--Margarete Buber-Neumann, David Rousset, Primo Levi, and Germaine Tillion--were deported to concentration camps. Others--Vasily Grossman and Romain Gary--fought courageously in World War II. All became exemplary witnesses who described with great lucidity and humanity what they had endured.

This book preserves the memory of the past as we move into the twenty-first century--arguing eloquently that we must place the past at the service of a just future.
About the Author
Born in Sofia, Tzvetan Todorov left Bulgaria in the early 1960s and moved to Paris, where he established himself as a literary theorist, historian of ideas, and world-renowned essayist. He is a director of research at the Centre National de la Recherche Scientifique (CNRS) and the author of numerous books. Several of these have been translated into English, including: Facing the Extreme (1996), A French Tragedy (1996), On Human Diversity (1993), and The Conquest of America (1984).

David Bellos is the director of the Program in Translation and Intercultural Communication at Princeton University, where he is also a professor of French and comparative literature. He has won many awards for his translations of Georges Perec, Ismail Kadare, and others, including the Man Booker International Translator s Award. He also received the Prix Goncourt for "George Perec: A Life in Words". He is the author of the book "Is That a Fish in Your Ear? Translation and the Meaning of Everything".