C. P. Cavafy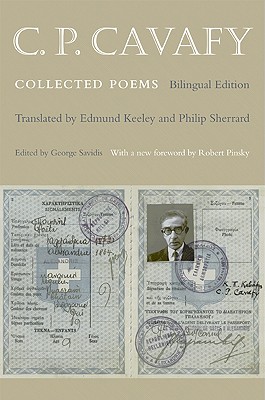 C. P. Cavafy
Collected Poems
Princeton University Press, Paperback, 9780691141244, 468pp.
Publication Date: October 2009
* Individual store prices may vary.
Shop Local
Enter your zip code below to find indies closest to you.
Description
C. P. Cavafy (1863-1933) lived in relative obscurity in Alexandria, and a collected edition of his poems was not published until after his death. Now, however, he is regarded as the most important figure in twentieth-century Greek poetry, and his poems are considered among the most powerful in modern European literature.

This revised bilingual edition of "Collected Poems" offers the reader the original Greek texts facing what are now recognized as the standard English translations of Cavafy's poetry. It is this translation that best captures the poet's mixture of formal and idiomatic language and that preserves the immediacy of his increasingly frank treatment of homosexual eroticism, his brilliant re-creation of history, and his astute political ironies. This new bilingual edition also features the notes of editor George Savidis and a new foreword by Robert Pinsky.
About the Author
Constantine Petrou Cavafy was born in Alexandria, Egypt, in 1863 and died there in 1933. Alexandria's rich mix of races and cultures was a constant source of attraction and inspiration to him. He was described by the Times Literary Supplement as "one of the greatest writers of our times."



Edmund Keeley taught English, Creative Writing, and Hellenic Studies at Princeton for forty years until his retirement as Charles Barnwell Straut Professor of English Emeritus. In addition to his seven novels and his literary and historical studies focused on Greece, he has published fifteen volumes of poetry in translation, including the collected poems of Cavafy and Seferis (in collaboration with Philip Sherrard) and selected poems of Eltyis and Ritsos. Among his awards are the Harold Morton Landon Translation Award, the Award for Literature of the American Academy of Arts and Letters, and the PEN/Ralph Manheim Medal for Translation. He was elected Corresponding Member of the Academy of Athens and Honorary Member of the Hellenic Authors Society.