The Eternal City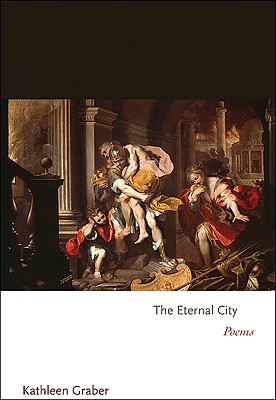 The Eternal City
Princeton University Press, Paperback, 9780691146102, 78pp.
Publication Date: July 21, 2010
* Individual store prices may vary.
Buy at Local Store
Enter your zip code below to purchase from an indie close to you.
or
Buy Here
Description
Chosen by Pulitzer Prize-winning poet Paul Muldoon to relaunch the prestigious Princeton Series of Contemporary Poets under his editorship, The Eternal City revives Princeton's tradition of publishing some of today's best poetry.
With an epigraph from Freud comparing the mind to a landscape in which all that ever was still persists, The Eternal City offers eloquent testimony to the struggle to make sense of the present through conversation with the past. Questioning what it means to possess and to be possessed by objects and technologies, Kathleen Graber's collection brings together the elevated and the quotidian to make neighbors of Marcus Aurelius, Klaus Kinski, Walter Benjamin, and Johnny Depp. Like Aeneas, who escapes Troy carrying his father on his back, the speaker of these intellectually and emotionally ambitious poems juggles the weight of private and public history as she is transformed from settled resident to pilgrim.
______
From The Eternal City
WHAT I MEANT TO SAY
Kathleen Graber
In three weeks I will be gone. Already my suitcase stands
overloaded at the door. I've packed, unpacked, & repacked it,
making it tell me again & again what it couldn't hold.
Some days it's easy to see the signifi cant insignificance
of everything, but today I wept all morning over the swollen,
optimistic heart of my mother's favorite newscaster,
which suddenly blew itself to stillness. I have tried for weeks
to predict the weather on the other side of the world: I don't want
to be wet or overheated. I've taken out The Complete Shakespeare
to make room for a slicker. And I've changed my mind
& put it back. Soon no one will know what I mean when I speak.
Last month, after graduation, a student stopped me just outside
the University gates despite a downpour. He wanted to tell me
that he loved best James Schuyler's poem for Auden.
So much to remember, he recited in the rain, as the shops
began to close their doors around us. I thought he would live
a long time. He did not. Then, a car loaded with his friends
pulled up honking & he hopped in. There was no chance to linger
& talk. Today I slipped into the bag between two shoes that book
which begins with a father digging--even though my father
was no farmer & planted ever only one myrtle late in his life
& sat in the yard all that summer watching it grow as he died,
a green tank of oxygen suspirating behind him. If the suitcase
were any larger, no one could lift it. I'm going away for a long time,
but it may not be forever. There are tragedies I haven't read.
Kyle, bundle up. You're right. It's hard to say simply what is true.
For Kyle Booten