The Spirit of Cities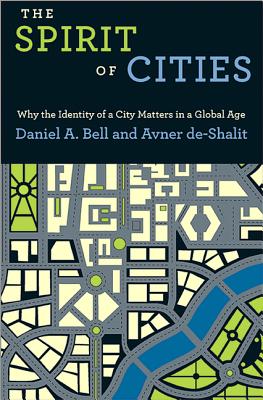 The Spirit of Cities
Why the Identity of a City Matters in a Global Age
Princeton University Press, Hardcover, 9780691151441, 347pp.
Publication Date: September 11, 2011
* Individual store prices may vary.
Not Currently Available for Direct Purchase
or
Shop Local
Enter your zip code below to purchase from an indie close to you.
Description
Cities shape the lives and outlooks of billions of people, yet they have been overshadowed in contemporary political thought by nation-states, identity groups, and concepts like justice and freedom. "The Spirit of Cities" revives the classical idea that a city expresses its own distinctive ethos or values. In the ancient world, Athens was synonymous with democracy and Sparta represented military discipline. In this original and engaging book, Daniel Bell and Avner de-Shalit explore how this classical idea can be applied to today's cities, and they explain why philosophy and the social sciences need to rediscover the spirit of cities.
Bell and de-Shalit look at nine modern cities and the prevailing ethos that distinguishes each one. The cities are Jerusalem (religion), Montreal (language), Singapore (nation building), Hong Kong (materialism), Beijing (political power), Oxford (learning), Berlin (tolerance and intolerance), Paris (romance), and New York (ambition). Bell and de-Shalit draw upon the richly varied histories of each city, as well as novels, poems, biographies, tourist guides, architectural landmarks, and the authors' own personal reflections and insights. They show how the ethos of each city is expressed in political, cultural, and economic life, and also how pride in a city's ethos can oppose the homogenizing tendencies of globalization and curb the excesses of nationalism.
"The Spirit of Cities" is unreservedly impressionistic. Combining strolling and storytelling with cutting-edge theory, the book encourages debate and opens up new avenues of inquiry in philosophy and the social sciences. It is a must-read for lovers of cities everywhere.
About the Author
Daniel A. Bell is Zhiyuan Chair Professor of the Arts and Humanities at Jiaotong University (Shanghai) and Professor of Ethics and Political Philosophy and Director of the Center for International and Comparative Political Philosophy at Tsinghua University (Beijing). His recent books include China's New Confucianism (revised edition, 2010); the co-edited books A Confucian Constitutional Order (2013) and Ancient Chinese Thought, Modern Chinese Power (2011); and the co-authored book The Spirit of Cities (2011). He has co-edited three previous books with Cambridge University Press. He is a frequent contributor to The New York Times, the Financial Times and to Chinese language publications. His writings have been translated into twenty-two languages.

Avner de-Shalit is Associate Professor of Political Science at the Hebrew University of Jerusalem and Associate Fellow at the Oxford Centre for Environment, Ethics, and Society, Mansfield College, Oxford University.