The Chronicles of Narnia Audio Collection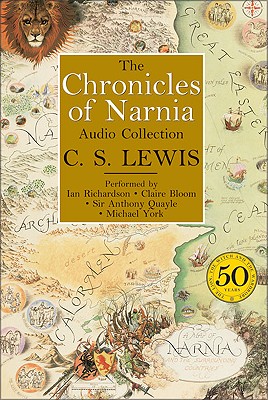 The Chronicles of Narnia Audio Collection
HarperFestival, Analog Audio Cassette, Abridged, 9780694524662
Publication Date: October 24, 2000
* Individual store prices may vary.
Buy at Local Store
Enter your zip code below to purchase from an indie close to you.
or
Buy Here
Description
Fall under Aslan's spell with these abridged audio recordings by celebrity readers that bring the seven books of The Chronicles of Narnia series to life, on seven cassette tapes.
Narnia is a place where children are transformed into kings and queens, beasts and creatures can talk, and magic reigns. In superlative performances, Ian Richardson, Claire Bloom, Anthony Quayle, and Michael York narrate this classic fantasy series, which contains: The Magician's Nephew; The Lion, the Witch and the Wardrobe; The Horse and His Boy; Prince Caspian; The Voyage of the Dawn Treader; The Silver Chair; and The Last Battle.
C. S. Lewis's The Chronicles of Narnia has captivated fans of all ages with unforgettable adventures, fantastic creatures, and epic battles between good and evil.
About the Author
Clive Staples Lewis (1898-1963) was one of the intellectual giants of the twentieth century and arguably one of the most influential writers of his day. He was a Fellow and Tutor in English Literature at Oxford University until 1954, when he was unanimously elected to the Chair of Medieval and Renaissance Literature at Cambridge University, a position he held until his retirement. He wrote more than thirty books, allowing him to reach a vast audience, and his works continue to attract thousands of new readers every year. His most distinguished and popular accomplishments include Out of the Silent Planet, The Great Divorce, The Screwtape Letters, and the universally acknowledged classics The Chronicles of Narnia. To date, the Narnia books have sold over 100 million copies and have been transformed into three major motion pictures.
Clive Staples Lewis (1898-1963) fue uno de los intelectuales mas importantes del siglo veinte y podria decirse que fue el escritor cristiano mas influyente de su tiempo. Fue profesor particular de literatura inglesa y miembro de la junta de gobierno en la Universidad Oxford hasta 1954, cuando fue nombrado profesor de literatura medieval y renacentista en la Universidad Cambridge, cargo que desempeno hasta que se jubilo. Sus contribuciones a la critica literaria, literatura infantil, literatura fantastica y teologia popular le trajeron fama y aclamacion a nivel internacional. C. S. Lewis escribio mas de treinta libros, lo cual le permitio alcanzar una enorme audiencia, y sus obras aun atraen a miles de nuevos lectores cada ano. Sus mas distinguidas y populares obras incluyen Las Cronicas de Narnia, Los Cuatro Amores, Cartas del Diablo a Su Sobrino y Mero Cristianismo.
Richardson has performed most of the great Shakespearean roles on stage for the Royal Shakespeare Company and has been featured in numerous films.
Claire Bloom gained international fame in 1951 with her screen debut in Charles Chaplin s motion picture Limelight. Among her many memorable films are Richard III, The Haunting, Look Back in Anger, and A Doll s House.