Blindside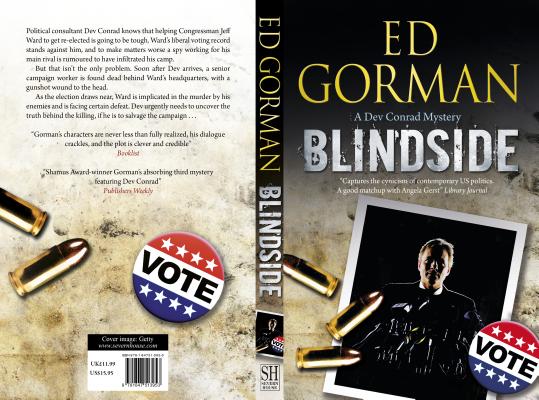 Blindside
A Dev Conrad Mystery
Severn House Publishers, Hardcover, 9780727880253, 185pp.
Publication Date: January 1, 2012
* Individual store prices may vary.
Buy at Local Store
Enter your zip code below to purchase from an indie close to you.
or
Not Currently Available for Direct Purchase
Description
"The new Dev Conrad mystery from the author of the Sam McCain and Jack Dwyer series - "Political consultant Dev Conrad knows that helping Congressman Michael Robards to get re-elected is going to be tough. Robards liberal voting record stands against him, and his staff seem resentful of Dev himself which could doom the campaign. But there's a bigger problem. A campaign worker has been shot behind Robards headquarters. Both Dev and the police presume it was a mugging, but as the election draws near, Robards is implicated in the murder by his enemies . . .
About the Author
Ed Gorman became a full-time writer in 1984 after a career in advertising. Prolific in the mystery, dark suspense and western genres, he has written more than a hundred stories and many novels, including Stanglehold, due from St. Martin's Press in 2010. His stories have appeared in numerous anthologies, including The Shamus Winners (2010). In 2011 Gorman was honored with the Lifetime Achievement Award from the Private Eye Writers of America.
Praise For Blindside…
Freelance political consultant Dev Conrad (Stranglehold, 2010, etc.) signs on to help another congressional campaign plagued by murder and other deviltry.

When liberal incumbent Jeff Ward's father Tom persuades Dev to spend some time with his son's flailing campaign, Jeff's speechwriter Jim Waters hasn't yet been shot to death. And Tom can't even identify the other problems. But it's clear that trouble is afoot. Someone close to Ward is evidently leaking sensitive information to Rusty Burkhart, his millionaire right-wing challenger. David Nolan, the candidate's lifelong friend and chief of staff, disappears almost the moment Dev first pokes his nose into the campaign tent. And Dev soon learns that Ward is being blackmailed over a steamy videotape starring him and a prostitute. As Burkhart rises in the polls, Sylvia Fordham, high priestess of conservative consultants, crows over Ward's vulnerabilities. Dev quickly realizes that only Jennifer Conners, the Goth teen left to mourn Waters, shows any sign of emotional attachment to any of the leads; everything else, from the two women Ward chooses to flank him at the press conference Dev urges him to call over Waters' death, to the sound bites the candidates hurl at each other during a debate, is delectably synthetic. In such an amoral world, nothing, it seems, can save the Ward campaign—unless of course Dev discovers that his opponent has fallen victim to the same blackmailer too. Perfect.

Another caustic indictment of electoral politics at its most American. No wonder it's hard to muster much moral outrage when Dev, efficient as ever, identifies the blackmailer and the killer, who act just like everyone else.