How to Say It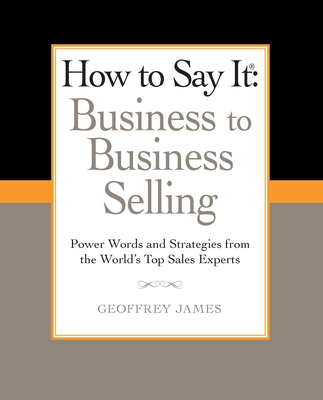 How to Say It
Business to Business Selling: Power Words and Strategies from the World's Top Sales Experts
Prentice Hall Press, Paperback, 9780735204584, 187pp.
Publication Date: December 6, 2011
* Individual store prices may vary.
Buy at Local Store
Enter your zip code below to purchase from an indie close to you.
or
Buy Here
Description
There are approximately 35 million business to business sales reps in the country selling everything from books and computers to furniture and flooring. They know as well as anyone that selling to other businesses is not the same as selling to consumers. Businesses have different budgets, needs, demands, and expectations from those of general consumers. That means an entirely different skill set is required of business to business sales reps.
"How to Say It: Business to Business Selling" is the only book of its kind that caters exclusively to business to business sales professionals. Its short chapters provide tips and strategies tailored especially for the unique business to business selling process. You'll learn how to:
Motivate Yourself to Sell
Craft an Elevator Pitch
Find Hot Sales Leads
Make a Cold Call
Use Voicemail to Sell
Give a Sales Presentation
Write a Sales Proposal
Give a Product Demo
Negotiate the Best Deal
Close a Sale
Create a Powerful Sales Process
Sell to Top Executives
Build Sales Partnerships
Get a Customer Referral
Accelerate Your Sales Cycle
"With How to Say It: Business to Business Selling" you can sell business to business like a seasoned pro.
About the Author
Geoffrey James is a full-time author and consultant on computer industry issues. He is and adjunct faculty member at Boston University and teaches management courses at the UC Santa Cruz and the University of Washington. Mr. James resides on the East Coast.