NBA Coaches Playbook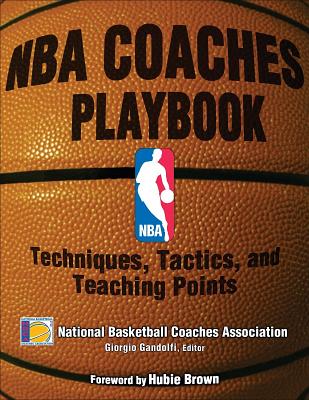 NBA Coaches Playbook
Techniques, Tactics, and Teaching Points
Human Kinetics Publishers, Paperback, 9780736063555, 344pp.
Publication Date: September 9, 2008
* Individual store prices may vary.
Buy at Local Store
Enter your zip code below to purchase from an indie close to you.
or
Buy Here
Description
The Phoenix Suns' Steve Nash shines in running the break, but how do his teammates know where to go to get open to receive his passes? Orlando's Dwight Howard is a tremendous talent in the post, but how has he improved and added new dimensions to his game? And how is it that Utah's Deron Williams and Carlos Boozer run the screen-and-roll as smoothly as Jazz legends John Stockton and Karl Malone did years before?
Coaching. Yes, even in a league loaded with superior athletic talent, the teaching, tactical maneuvers, and strategies provided by NBA coaches are second to none. And as younger, sometimes less mature and less experienced players from all over the world have entered the league, those coaching skills are more diverse and better honed than ever before.
Now NBA "Coaches Playbook" takes you into the practice sessions and sideline huddles with detailed Xs and Os and more from the game's best at maximizing performance on the court. Let the likes of Phil Jackson, Mike D'Antoni, Avery Johnson, Stan Van Gundy, George Karl, Eddie Jordan, Mike Dunleavy, Kareem Abdul-Jabbar, and many other head and assistant coaches provide you with new insights to benefit your own team and individual players.
About the Author
Giorgio Gandolfi, who has spent 30 years in the international coaching world, amassed a unique collection of drills from his own experience as a coach, an organizer of camps and clinics around the globe, working with the Converse Shoe Company, and as a participant in clinics from Europe, to United States, to South America, and Asia, with the top US high school, college, NBA and international coaches. Since 2003, he has been the Editor-in-Chief of Fiba Assist, the Official Technical Magazine of FIBA, the International Basketball Federation. Gandolfi is also the author of three technical books in the US: NBA Coaches Handbook, Prentice Hall, 1986; Hoops-The NBA Players Association Guide for Playing Basketball, McGraw-Hill, 1987; and NBA Coaches Playbook, Human Kinetics, 2008.