Vegan Soul Kitchen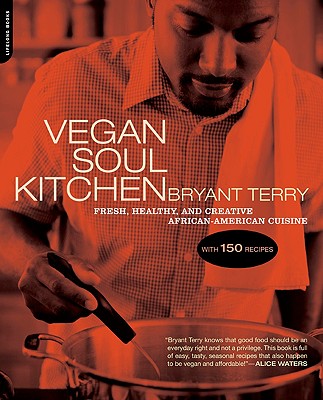 Vegan Soul Kitchen
Fresh, Healthy, and Creative African American Cuisine
Da Capo Press, Paperback, 9780738212289, 223pp.
Publication Date: March 2009
* Individual store prices may vary.
Buy Now
or
Shop Local
Enter your zip code below to purchase from an indie close to you.
Description
Innovative, animal-free recipes inspired by African-American and Southern cooking, from an award-winning chef and co-author of Grub: Ideas for an Urban Organic Kitchen
About the Author
Bryant Terry is a chef, food justice activist, and founding director of b-healthy! (Build Healthy Eating and Lifestyles to Help Youth), a New York-based nonprofit organization. Both authors live in Brooklyn.
Praise For Vegan Soul Kitchen…
Winner of Treehugger's Green Award for Best Cookbook of 2010 (4/9/10)
Named a "Top Ten Vegan Cookbook" by VegNews, July/August 2010

Alice Waters
"Bryant Terry knows that good food should be an everyday right and not a privilege. This book is full of easy, tasty, seasonal recipes that also happen to be vegan and affordable!"
John Robbins, author The Food Revolution and Diet for a New America
"Do you think a commitment to healthy eating means enduring bland and boring food? Vegan Soul Kitchen will not only show you otherwise, but will make it easy for you to create fabulously delicious and exotic dishes. Here's proof that natural foods can be fascinating and sensuous. Here are recipes you will enjoy using time and again."
Heidi Swanson, author of Super Natural Cooking, publisher of 101Cookbooks.com
"From gumbo to grits, goobers to greens, Vegan Soul Kitchen dispels the notion that great tasting soul food has to be bad for you. This is a beautiful book brimming with nutrient-packed, approachable everyday recipes. One of those rare cookbooks I look forward to cooking through from cover to cover."
Van Jones, author of the New York Times bestseller The Green Collar Economy
"Much more than a cookbook, Vegan Soul Kitchen reads like a rich gumbo of the African American experience, a history lesson with a mouthwatering twist. From reaching back to our heritage as stewards of the earth to offering modern recipes, music suggestions and original poetry, Bryant brings together a portrait of a people as well as a movement (food justice) that is poised to save our health, green our communities, and sustain the earth. Bryant knows the shortest way to people's hearts is through their stomachs."
Peter Berley, author of The Flexitarian Table
"Bryant Terry's warm hearted, soulful dishes shout out to you and me with crackling, lip smacking goodness. His fresh and sassy way at the stove puts meat on the bones of the very plants that are sure to sustain us for generations to come."
Annemarie Colbin, Ph.D., founder, The Natural Gourmet Institute for Health and Culinary Arts, author of The Whole-Food Guide to Strong Bones
"Bryant has written a very creative, original, and musical cookbook. I look forward to trying out a bunch of these appetizing recipes. As a teacher, seeing a graduate of the Natural Gourmet Institute succeed so beautifully warms my heart."
Ani Phyo, author Ani's Raw Food Kitchen and Ani's Raw Food Desserts
"Anyone with soul and good taste will love Bryant's 'African Diaspora' recipes. They're downright delicious and satisfying. By mixing together the freshest beats with local, sustainable ingredients and healthful cooking techniques, Bryant brings to life the festive culture of celebration that comes from eating this way."
Ann Peebles, Singer and Songwriter (and Bryant's Aunt)
"That boy can cook!"
Jessica B. Harris, author of The Welcome Table
"Don't let the Vegan in the title fool you. With food, music, and a zero waste way with watermelon that yields 6 recipes, Bryant Terry's Vegan Soul Kitchen not just for Vegans. Innovative and taste-full recipes like Sweet Cornmeal Coconut Drop Biscuits, and Baked BBQ Black Eyed Peas, make it a book for anyone who wants to eat well."
Jay Foster, Farmer Brown Restaurant
"As the chef and owner of Farmer Brown Restaurant, I know firsthand the challenges of bringing soul food to people who haven't tried it. If you're new to this cuisine, Bryant Terry's recipes will open your world; if you're looking for a twist, prepare to be amazed. All I can say is WOW! Thank you Bryant."
Robin D. G. Kelley, author of Freedom Dreams: The Black Radical Imagination
"Bryant Terry transforms age-old black culinary traditions into what soul food ought to be—food that sustain our bodies, our earth, our sense of community, and our desire for the delicious. For the naysayers who resist the audacity of okra or the soft power of tofu, Vegan Soul Kitchen is the new manifesto that cries out, Yes We Can give up meat and enjoy gastronomic nirvana."
Alondra Nelson, Yale University, author of Body and Soul: The Black Panther Party and the Politics of Race and Health
"A pioneer of the East Coast food justice movement, now hailing from the West Coast home of progressive food politics—where the Black Panther Party's Free Breakfast for Children program made nutrition a key ingredient of social transformation and where Alice Waters started an organic revolution—who else but Chef Bryant Terry could have brought us the finger-licking, ethical eats in Vegan Soul Kitchen. At a moment when food can harm as well as heal, he has ingeniously re-imagined soul food by going back to the roots and back to the land. Recipes paired with vintage R&B, praise songs and poetry remind us that African diasporic cuisine has always been food for living and a total sensory experience."
Publishers Weekly (starred web exclusive), 2/2/09
"West Coast chef Bryant Terry manages not only to demystify classic southern cooking, he makes it healthier and more accessible…Terry's latest will make a happy discovery for cooks of any dietary persuasions."
Detroit Metro Times, 3/11/09
"Will convince you that soul food can be delicious without the animal fats and sodium associated with it."
EbonyJet.com, 3/20/09
"Bryant teaches us that we can eat healthy and soulful, while creating just and sustainable food systems."
The Root, 3/25/09
"At a time when more people are trying to eat well on a budget, the timing of [Terry's] contribution couldn't be better. Not only does Vegan Soul Kitchen prove that vegan soul food isn't an oxymoron, it shows what's possible for cooks who want to align their souls with their appetites, feeding their bellies along with their spirits."
Edible Memphis, Spring 2009
"Bryant proves that soul food can be healthy and worthy of anyone's (not just the vegans') table. Not a Vegan? Pick up the book anyway. It's loaded with 150 easy, flavorful recipes that are economical and healthy."
East Bay Express, 4/22/09
"Terry draws upon his roots to create seasonal, healthy, animal-free alternatives to butter-drenched soul-food staples. Unlike many vegan cookbooks that call for hard-to-find specialty ingredients, most of Terry's recipes require a few simple ingredients that can be purchased at farmers markets and mainstream grocery stores."
VegNews, 5/2/09
"With 150 recipes, this can't miss classic will have you kissing your Collard Confetti without missing a beat."
GoodCooking.com, 5/11/09
"This is a fun book that is well written with good recipes to boot. It will make a nice addition to your cookbook collection as long as Grandma doesn't swipe it to try a few recipes for herself!"
South Florida Sun Sentinel, 5/20/09
"Terry's recipes stand on their own. They're not about what's missing. They are complete, packed with flavor, color and texture: pan-fried grit cakes are served with caramelized spring onions, roasted sweet potato puree gets its creamy texture from coconut milk."
New York Times, 5/28/09
"This young food activist makes Southern cooking healthy and cool."
Uptown Social, 5/26/09
"Vegan is not typically associated with soul food, but Oakland-based eco chef Bryant Terry is not your typical southern son. His recipes will satisfy part-time vegetarians and full-time soul food fanatics who require flavorful meals that combine local ingredients in quirky and tasty ways."
Los Angeles Sentinel, 5/21/09
"With obesity and high rates of diabetes and other health issues affecting African-Americans, Vegan Soul Kitchen is right on time."
Slashfood, 7/8/09
"For vegans looking for new and innovative directions to take their cooking, this is an excellent resource. And for non-vegans who are looking for ways to introduce vegetables into their diet—in a way that is worlds removed from the stereotypes (bland, piously healthy) that bedevil vegan cooking—this is also a worthwhile investment."
Philadelphia Daily News, 7/23/09
"Vegan Soul Kitchen brings the flavor without the fat. It's a collection of fresh fruit-, vegetable- and nut-based meals which, while classified as 'vegan,' are also traditional family recipes with a hip and healthy flair."
Clean Eating, Sept/Oct 2009
"You won't miss the meat or butter here! Bryant Terry reinterprets popular dishes in an animal-free yet surprisingly rich way that still manages to capture the complex flavors of soul food's African, Native American, Caribbean and American roots."
Edible Ojai, Summer 2009
"[Terry] has come along to dispel the misconception that traditional Southern cooking consists primarily of over-cooked collard greens and foods saturated with animal fats."
YourVeganMom.com, 7/22/09
"This is the sort of cookbook that you will want to read from cover to cover. With its emphasis on healthy whole foods updates of soul food classics, you will also want to do some cooking."
Eau Claire Leader-Telegram, 8/11/09
"With 150 creative recipes, Terry almost makes you believe soul food can be made without bacon grease."

Portland Monthly's "Portland Plated" blog, 8/31
"The Oakland-based cook, food activist, and author of the excellent cookbook Vegan Soul Kitchen takes a more compelling approach: He simply creates delicious and inspiring food."
Heart & Soul, August 2010"This young, hip, vegan brother flows easily among urban neighborhoods, academic circles, and the usual haunts of culinary pros."