Vegan Pie in the Sky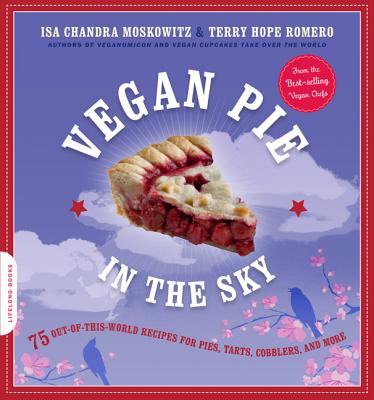 Vegan Pie in the Sky
75 Out-Of-This-World Recipes for Pies, Tarts, Cobblers, & More
Da Capo Lifelong Books, Paperback, 9780738212746, 223pp.
Publication Date: October 2011
* Individual store prices may vary.
Buy Now
or
Shop Local
Enter your zip code below to purchase from an indie close to you.
Description
From the reigning queens of vegan baking (500,000 books sold), a cookbook that elevates the latest dessert trendpies and tartsto delicious new heights
About the Author
Isa Chandra Moskowitz is an American cookbook author, magazine columnist, and former host of the community access cooking show Post Punk Kitchen. Her best-selling cookbooks include "Vegan with a Vengeance", "Vegan Cupcakes Take Over the World", "Veganomicon", "Vegan Brunch", "Vegan Cookies Invade Your Cookie Jar", and "Appetite for Reduction". She maintains the popular vegan website Post Punk Kitchen and lives in Omaha, Nebraska.

Terry Hope Romero have hosted the public access/podcast vegan cooking show The Post Punk Kitchen, which won VegNews' Veggie Award for Best Cooking DVD.
Praise For Vegan Pie in the Sky…
VegNews, September/October 2011
"Isa. Terry. Pie. Those three words are pretty much all you need to know…Vegan Pie in the Sky is a veritable smorgasbord of dished desserts…One of the most highly anticipated vegan-baking tomes since Vegan Cupcakes Take Over the World. Or Vegan Cookies Invade Your Cookie Jar."
Kirkus Reviews, 10/15/11

"The icons of hip vegan cuisine tackle the heavyweight champ of American dessert: pie…Bursting with an 'anyone-can-do-this' approach and a defiant 'non-vegans-won't-be-able-to-tell-the-difference' attitude, they provide dozens of recipes for classic fruit pies, cobblers, crisps and cheesecakes. Vegan cooks can look forward to whipping up a pear and cranberry galette that will even have their carnivorous relatives scarfing down a second slice at the next family gathering…More than just a niche guide, this mouthwatering collection of desserts will satisfy even the most reluctant reader." 
VegNewsletter (VegNews e-newsletter), October 2011

"A drool-worthy cornucopia of pies."

Tucson Citizen, 10/24/11
"A delightful new cookbook filled with recipes for delicious, easy-to-prepare pies, tarts, and cobblers. Best of all, it is being released just in time for the holiday season…The recipe in the cookbook for making a buttery double crust for pie is about the easiest and most user-friendly I've found." 
NoMFG.com, 10/21/11
"[Moskowitz and Romero] not only lay out a terrific spread of a lexicon at the beginning of the book, but in each recipe there are waypoints to navigate you through the trip-ups of any recipe…The authors do not let an opportunity slip where they can inform an action or step. They also don't burden the book with cumbersome, extraneous details." 
EatDrinkBetter.com, 10/25/11
"[Moskowitz and Romero] write
Vegan Pie in the Sky
with their usual wit and charm and easy-to-understand instructions."
Library Journal, 11/3/11
"Expect demand for this book, which vegans will reach for as often as other bakers consult Ken Haedrich's Pie."
Blogcritics.org, 10/31/11
"A book you should grab if you want to stun your family with tasty treats for the holidays…Filled with funny little tidbits for the 'vegan police' and gives advice for the new baker. It is fun to read even if you never try a recipe because you'll learn a lot about some ingredients...Try
Vegan Pie in the Sky
and your friends and family will be amazed by your talent." 
VivMag.com, 11/4/11
"[An] easy-to-navigate cookbook." 
Bookviews.com, November 2011
"Vegans will enjoy its delicate tars, crumbly cobblers, and other delicious desserts." 
BizIndia.net, 10/31/11

"[A] treasure trove of 75 recipes for delectable pies and other such goodies…Get a copy."

Library Journal, 11/15/11
"Like their other publications, this comprehensive guide to pies contains smart, sassy recipes that embrace rather than work around the vegan diet…Expect demand for this book, which vegans will reach for as often as other bakers consult Ken Haedrich's
Pie
."
Technorati.com, 11/13/11
"There really is something very special about pie, and
Vegan Pie in the Sky
offers some very special pies and pastries, along with traditional favorites like Apple Pie and Apple Brown Betty. Those desirous of something more sophisticated might be tempted by the Cappuccino Mousse Pie, which is a lot easier to make than it sounds—ideal for an elegant dessert. Or perhaps that masterpiece of artistic engineering, Strawberry Kiwi Crème Tart, would be more to your liking. Whether you want to prepare a down-home favorite or something a lot more uptown,
Vegan Pie in the Sky
has the recipe you need. The variety is excellent."
SergeTheConcierge.com, 11/14/11
"Isa Chandra Mokowitz and Terry Hope Romero will make your holiday baking stress free and fun filled…A must for end of the year parties."
Mesquite Local News, 11/13/11
"It seems like everybody has a baker on their gift list, and if you're no exception, then wrap up
Vegan Pie in the Sky
."
Publishers Weekly, 11/28/11
"Moskowitz and Romero…offer bakers a wide variety of crusts to build on—from the traditional pie crust to chocolate, graham cracker and even buckwheat…The duo deserves plaudits for their user-friendly approach as well as their ability to keep scarcer ingredients to a minimum."
The Pastry Sampler (blog), 11/22/11
"Provides fun and tasty desserts for any diet…While this cookbook is obviously geared for vegans and those who would like to create desserts that are completely animal-free, this is also a good baking book on its own. The baking tips throughout the book on the subject of pies are sound, the color photos are appetizing, and most recipes use ingredients already found in many family pantries so sourcing out special ingredients is unnecessary…Vegan Pie in the Sky shows readers that vegan baking can embody the use of fresh ingredients and finish them in a tantalizing way—that just happens to be completely animal-free."
Syracuse New Times, 11/30/11
"Luckily for readers, the authors lead the book with a chapter titled 'Essential Pie Ingredients.' They walk prospective bakers through creamy things, flours and starches, sweeteners and fats—all in keeping with their vegan sensibilities."
Veggiegirl.com, 12/2/11
"Don't know the difference between a buckle, a betty and a cobbler? Isa and Terry explain all. The recipes are easy to make and the instructions are written with a sense of humor, so nothing is too intimidating for baking newbies, and baking veterans will have no problem whipping up a delicious pie to impress their friends and family." 
BoingBoing.net, 11/28/11
"Vegan cookbook queens Isa Chandra Moskowitz and Terra Hope Romero tackle the most American of desserts: pie…But this book isn't about what's not in the desserts, it's about what is in them: tons of yum." 
Pomp & Circumstance, 12/6/11
"Ideal for anyone with a sweet tooth." 
Sacramento Book Review and San Francisco Book Review, 12/2/11

"Renowned vegan chefs Isa Chandra Moskowitz and Terry Hope Romero have done it again with
Vegan Pie in the Sky
…[A] delightful little cookbook…The authors sprinkle their signature wit throughout every page, so readers will be laughing even as their mouths water in anticipation of which delicious treat to try first. With recipes for every pie you can think of, and several you'd never even thought to try, this cookbook is destined to become a go-to guide for home bakers everywhere."  
InfoDad.com, 12/15/11
"Amusing writing…Vegans who love the taste of unusual pies and also want recipes for vegan versions of some old standards (coconut cream pie, pumpkin cheesecake, chocolate mousse tart and others) will enjoy trying out
Vegan Pie in the Sky,
coming up with their own favorites, and maybe, just maybe, showing some non-vegan friends that vegan desserts can be just as delicious as traditional non-vegan ones." 
Portland Book Review , 12/19/11
"The authors give good instructions and illustrations on various pie dough borders and toppings…Even non-vegan bakers will enjoy this pie book." 
The Hippo, 12/15 issue

"Offers more than just the fruit pies that spring to mind when you first think 'vegan pie.'" 
Curled Up with a Good Book, 12/23/11
"These award-winning chefs provide encouraging words for the beginner pie maker and do-it-yourself tips for those concerned with saving money…Readers who don't have a lot of space for a new cookbook will appreciate the small size of this book and the variety of ideas it contains for making tasty desserts."

CookBookMan.com, 1/4/12
"Vegan bakers delight! If baking is your thing, then
Vegan Pie in the Sky
is a must for you. It's packed with seventy five great recipes for pie lovers of all stripes…A nice collection that you will return to again and again…It's obvious from the first page that the these ladies can really bring it."
Midwest Book Review, February 2012
"Learn to produce buttery pie crusts without butter, creamy pies that don't rely on dairy products, and innovative pies from S'mores Pie to Sweet Potato Brazil Nut Crunch Pie. Vegan lovers can have desserts traditionally packed with diary with the appealing adaptations here, recommended for any vegan cookbook collection."
The Vegetarian (UK), Spring 2012
"The recipes themselves are very well explained…The title of this book may be Pie in the Sky, but making your own perfect pies will be very achievable after reading this."