The 30 Minute Vegan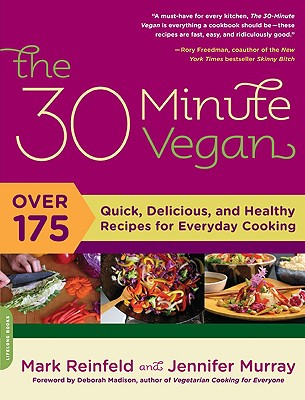 The 30 Minute Vegan
Over 175 Quick, Delicious, and Healthy Recipes for Everyday Cooking
Da Capo Lifelong Books, Paperback, 9780738213279, 348pp.
Publication Date: July 7, 2009
* Individual store prices may vary.
Buy Now
or
Shop Local
Enter your zip code below to purchase from an indie close to you.
Description
Busy vegans, rejoice award-winning husband and wife chefs/authors Reinfeld and Murray present 150 delicious, easy-to prepare recipes for everyday vegan cookingall dishes that can be prepared in a half-hour.
Sections include The Lighter Side of Life: Smoothies & Satiating Beverages; Snacks, Pick Me Ups & Kids Favorites; Lunches: Wraps, Rolls, Bowls, and More; Extraordinary Salads; Sumptuous Soups; Small Plates: Appetizers, Side Dishes, Light Dinners; Wholesome Suppers; Guilt-Free Comfort Food: Healthy Translations of Old Stand-bys; and Divine Desserts.
"The 30-Minute Vegan" also provides at-a-glance cooking charts, kids favorite dishes, and exciting menu suggestions for every occasionmaking this an essential cookbook for busy vegans who want to enjoy delicious, healthful, whole-foods vegan fare every day.
About the Author
Mark Reinfeld is the founding chef of the Blossoming Lotus Restaurant, which won Honoluluas Advertiseras 2006 Ilima Award for aBest Restaurant of Kauaai.a Reinfeld won the 2006 Platinum Carrot Award for living foods, given to the top aHealthy Gourmet Chefsa in the country, and his cookbook "Vegan World Fusion Cuisine" has won nine national awards. "Bo Rinaldi" is a vegan, herbalist, and vegan cook, and co-authored "Vegan Fusion" with Mark Reinfeld.



Deborah Madison is a freelance writer and board member of the Foundation for Bio-Diversity and the Seed Savers Exchange, among others. As a freelance writer she has contributed to "Cooking Light, Williams Sonoma's Taste, Vegetarian Times, Gourmet, Food and Wine, Bon Appetit, Garden Design, Fine Cooking, Organic Style, " the "LA Times, Orion, " and others.
Praise For The 30 Minute Vegan…
Named a "Top Ten Vegan Cookbook" by VegNews, July/August 2010
Rory Freedman, coauthor of the New York Times bestseller Skinny Bitch
"A must-have for every kitchen, The 30 Minute Vegan is everything a cookbook should be—these recipes are fast, easy, and ridiculously good."
Ellie Krieger, RD, best-selling author of So Easy: Luscious Healthy Recipes for Every Meal of the Week and host of Food Network's Healthy Appetite
"This book is filled with delicious, exciting, healthful recipes that are accessible for everyone. You'll love it whether you're a vegan, or you just want to eat like one once in a while."
John Robbins, author of The Food Revolution and Diet for a New America
"One of the very best vegan cookbooks of all time. Fabulous recipes, healthy food, clear directions, and delicious results!"
Jennifer McCann, author of Vegan Lunch Box and Vegan Lunch Box Around the World
"Don't let a lack of time keep you from making a healthy choice! These quick, delicious recipes will see you through even the busiest mealtimes with good taste and style."
Michael Bernard Beckwith, author of Spiritual Liberation: Fulfilling Your Soul's Potential
"The 30-Minute Vegan is not only a culinary delight for vegetarians and vegans, it appeals to people who relish a meal that luxuriates the palate and satisfies the spirit."
Arthur H. Brownstein, M.D., M.P.H., author of Healing Back Pain Naturally and Extraordinary Healing
"Mark Reinfeld and Jennifer Murray have written a classic, practical guide to preparing exquisitely tasteful, healthy vegan food that is ideal for busy folks of today. Every home will be enriched by having this book in the kitchen. It is suitable for daily meals prepared for family members, as well as special holiday celebrations."
HungryVegan.com, 7/9/09
"The 30 Minute Vegan has found a permanent home in my kitchen, where its pages will quickly become worn, torn, and stained."
VegNews, August 2009
"The 30-Minute Vegan, is a fail-safe cookbook designed to save you time and eliminate stress in the kitchen. With a well-planned collection of fast, simple, and healthy recipes, the duo is determined to keep home dining diverse and your diet in tip-top shape."
Vegetarian Journal"The husband and wife team share their passion for vegan cooking in a new, quick-and-easy cookbook…Plenty of tips and resources are offered throughout."