No More Dirty Looks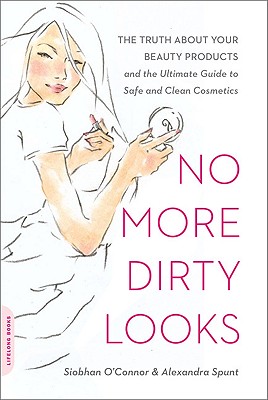 No More Dirty Looks
The Truth about Your Beauty Products--And the Ultimate Guide to Safe and Clean Cosmetics
Da Capo Lifelong Books, Paperback, 9780738213965, 292pp.
Publication Date: July 13, 2010
* Individual store prices may vary.
Buy at Local Store
Enter your zip code below to purchase from an indie close to you.
or
Not Currently Available for Direct Purchase
Description
This no-holds-barred girlfriends' guide to the hidden toxic chemicals in personal-care products (and what to use instead) is the Skinny Bitch for beauty junkies.
Praise For No More Dirty Looks…
Kim Barnouin, coauthor of the #1 New York Times bestseller Skinny Bitch
"This book is a wake-up call for all women who think that what you put on your body is not going to hurt you. O'Connor and Spunt offer an in-depth glimpse into the dangers lurking within the beauty industry, in a quick and engaging read that is tough to put down. No More Dirty Looks will arm consumers with knowledge, opening their eyes to products they should avoid and safer, healthier alternatives. Every woman I know is getting a copy."

Eric Schlosser, bestselling author of Fast Food Nation
"When it comes to good health, what you put on your skin can be as important as what you put in your mouth. Here's a useful book to help you look better and feel better—without poisoning yourself."

Ann Louise Gittleman, PhD, New York Times-bestselling author of The Fat Flush Plan
"I loved this book! No More Dirty Looks is a fabulous and enlightening guide to the cleanest skin, body and hair care products. It belongs in every woman's library and should be required reading for all skin and hair professionals!"

Ralph Nader
"No More Dirty Looks can save you from many toxic ingredients in cosmetics. Authors O'Connor and Spunt open a wide window to a world where personal care products and safety can co-exist and give you a better result with less pain and danger. The book reads as if the authors are talking with your body—from head to toe."

Jenny McCarthy, author, actress and activist
"As a mom concerned about my own health and that of my child, I consider No More Dirty Looks essential reading." Style.com, 7/29/10"Unlike some other green beauty guides, Looks is refreshingly free of preachiness or judgment…Instead, the book lays out all the facts and leaves it up to the reader to decide what next steps to take…No More Dirty Looks might not be your typical beach read, but it's got enough real intrigue to keep you turning the pages." New York Magazine, 8/1/10"A shocking investigation of the carcinogens, formaldehyde, brain-melting animal botulism, etc., found in many beauty products." Experience Life, November 2010"An indispensible resource if you're looking to clean up your body-care routine while still claiming the glamour that's rightly yours." Audrey Magazine, January 2011
"The book is a Fast Food Nation for the beauty industry, listing all these no-no ingredients for your face, hair, and body—and why." NW (Australia)
"Look fabulous without hurting yourself or the environment thanks to this fun and informative investigation into cosmetics…A must for ethical beauty junkies."