Keeping Your Child in Mind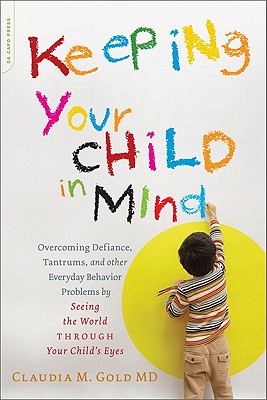 Keeping Your Child in Mind
Overcoming Defiance, Tantrums, and Other Everyday Behavior Problems by Seeing the World Through Your Child's Eyes
Da Capo Lifelong Books, Paperback, 9780738214856, 229pp.
Publication Date: August 30, 2011
* Individual store prices may vary.
Buy at Local Store
Enter your zip code below to purchase from an indie close to you.
or
Buy Here
Description
Bringing the magic of empathy to daily life with a child
About the Author
Claudia Gold, MD, practices behavioral pediatrics in Great Barrington, Massachusetts, and writes a column on children's mental health for the "Boston Globe." Trained in psychoanalytic theory, she has presented her work widely to parents and professionals.
Praise For Keeping Your Child in Mind…
Publishers Weekly, 8/1/11
"Readers seeking a comprehensive approach to child-rearing will welcome this thoughtful book."
Kirkus Review, 9/15/11
"Would be especially useful for new parents in search of holistic guidance. A panoply of hypothetical situations offering broad-based solutions."
Bookviews, September 2011
"The book looks at various ages and stages of development, imparting excellent advice that will make the job of parenting much easier."
Salt Lake City Desert News, 9/11/11
"Engaging and enlightening,
Keeping Your Child in Mind
is a book worth reading and rereading for any parent who is looking for understanding, support and a loving method that will bring out the best in a child. It is a breath of fresh air that parents may not have known they needed."

Infodad.com, 9/15/11

"Valuable…Gold couples an understanding of recent scientific and medical research with insights into parent-child relationships gleaned from her own work … Connectedness is the point here… Gold's examples of families with which her approach has worked are helpful."
San Francisco Book Review, 10/5/11
"Gold supports her recommendations using easy-to-understand situations, examples and solutions gathered from her interactions with her clients and referring to current research in child development."
Examiner.com, 9/29/11
"Gold's book is a powerful way to bring decades of developmental research and attachment theory to everyday parenting situations.  It gives all parents the insight needed to understand the emotions that undermine best intentions and explains why there isn't "one right way" in parenting…
Keeping Your Child in Mind
can offer relief to parents frustrated by frustrated by day-to-day parenting or help change a self-defeating parenting pattern. It holds the key to enjoying your child again and creating a satisfying family life." 
Mid-Ohio Valley Parents Magazine, October 2011

"Give[s] parents a lot to think about." 
Cleveland Psychoanalytic Center (website), 10/9/11
"Highly readable." 
Library Journal, 10/20/11

"Parents of older children with behavioral problems who are opposed to medication will find this advice useful…attachment-parenting proponents will applaud her approach." 
PensivePediatrician.com, 10/23/11

"Provides incredible insights for parents and anyone who works with children: teachers, doctors, daycare providers or counselors."
PsychCentral.com, 11/14/11
"Rather than have a parenting book for each individual phase, Dr. Gold provides a single resource that can be applied to all stages…Worth your time!"
Midwest Book Review, November 2011
"From infants to teens, this offers different approaches to nurturing and building relationships with a child and is a pick for any parenting library."

ParenThots.com (Malaysia), 7/9/12
"A timely book…A useful guide. It provides suggestions to unlocking some treasures by 'being' with our kids and slowing down to enjoy the flowers, with the life in our care."