You Can't Make This Stuff Up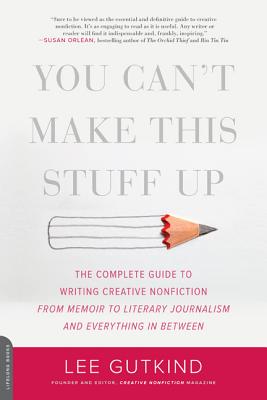 You Can't Make This Stuff Up
The Complete Guide to Writing Creative Nonfiction--From Memoir to Literary Journalism and Everything in Between
Da Capo Lifelong Books, Paperback, 9780738215549, 288pp.
Publication Date: August 14, 2012
* Individual store prices may vary.
Buy Now
or
Shop Local
Enter your zip code below to purchase from an indie close to you.
Description
From rags-to-riches-to-rags tell-alls to personal health sagas to literary journalism everyone seems to want to try their hand at creative nonfiction. Now, Lee Gutkind, the go-to expert for all things creative nonfiction, taps into one of the fastest-growing genres with this new writing guide. Frank and to-the-point, with depth and clarity, Gutkind describes and illustrates each and every aspect of the genre, from defining a concept and establishing a writing process to the final product. Offering new ways of understanding genre and invaluable tools for writers to learn and experiment with, "You Can t Make This Stuff Up" allows writers of all skill levels to thoroughly expand and stylize their work.
About the Author
Lee Gutkind is the author and editor of more than twenty-five books and the founder of Creative Nonfiction, the first literary magazine to publish narrative nonfiction exclusively. Lee is Distinguished Writer-in-Residence in the Consortium for Science, Policy, and Outcomes at Arizona State University.
Praise For You Can't Make This Stuff Up…
Kirkus Reviews, 7/15/12"Reminiscent of Stephen King's fiction handbook On Writing, the book will be useful to both new writers and seasoned chroniclers seeking a professional refresher course on the basics of content and continuity and on how to expand audience attention for typically esoteric material…An accessible, indispensable nonfiction guidebook from an authority who knows his subject from cover to cover."
Booklist, August 2012
"Gutkind, at once methodical and anecdotal in his instruction, offers clear and practical guidance on artistic concerns and matters technical, ethical, legal, and moral.…With expertise equaled by enthusiasm, the founder and editor of the magazine
Creative Nonfiction
advocates for the genre in which writers 'can be poetic and journalistic simultaneously.' An enlightening call for the highest of literary standards."
New York Journal of Books, 8/14/12
"You will be inspired and encouraged to write your way toward the inherent power of your story—becoming a better writer in the process."
The Writer, October 2012
"Anyone seeking to write creative nonfiction will benefit from Gutkind's clear and instructive voice…The many examples of great creative nonfiction he offers (and carefully analyzes in order to explain their magic) are alone worth the price of the book."
Pittsburgh Post-Gazette, 9/30/12
"Mr. Gutkind's latest work…is the kind of book about mastering the writing life we've come to expect from him: brash, clearly written, opinion-heavy, personal anecdote-driven, and chock full of practical exercises."
Bookviews blog, October 2012
"This is a grand tour of creative nonfiction, providing challenging writing exercises, analytical reflections on the techniques the best writers use, tips and getting published, and much more. I have been a nonfiction writer my whole life and I can confirm this book will turn you into one as well."
Infodad.com, 10/4/12
"A useful workbook for a specific writing niche, and people wanting to break into the field—especially those parts involving Gutkind himself or influenced by him—would do well to go through the exercises and recommendations in some detail."
Library Journal, October 2012
"Most writers interested in the [creative nonfiction] genre will want this on their shelves." 
Internet Review of Books, 10/3/12
"This book belongs in a writer's library."