Garden Witchery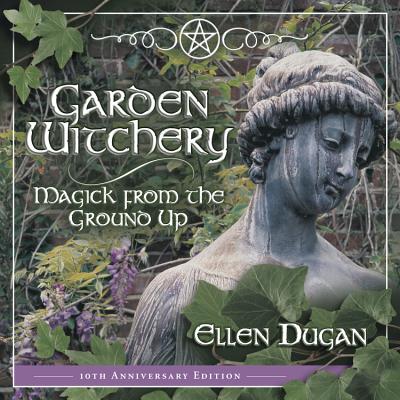 Garden Witchery
Llewellyn Publications, Paperback, 9780738703183, 304pp.
Publication Date: March 8, 2003
* Individual store prices may vary.
Buy at Local Store
Enter your zip code below to purchase from an indie close to you.
or
Buy Here
Description
How does your magickal garden grow?... With violets, rosemary, and yarrow to attract faeries; an apple tree for love and health; and a circle of stones in some tucked-away corner? Whether you live in a cottage in the woods, a home in the suburbs, or a city apartment with a small balcony, a powerful and enchanted realm awaits you. Discover the secret language and magickal properties of the trees and flowers, herbs and plants found growing around you, and learn how to create your own witch's garden.
Written with down-to-earth humor by a master gardener who is also a practicing witch, this creative and encouraging guide will inspire gardeners of all ages and experience levels. It includes a journal section that makes it easy to keep track of your progress, practical gardening advice, personal stories, and garden witchery lore and magick. Inside, you'll get the dirt on:
Flower folklore
Moon gardening and astrological timing
Faerie magick
Beginning to advanced witchcraft
Floral and herbal spells
Sabbat celebrations
Witch crafts (sachets, wreaths, charm bags)
Creating sacred space
Shade, moonlight, and sun gardens
Enchanted houseplant and container gardens
Magickal herbal correspondences
Garden blessings
2004 COVR AWARD WINNER
About the Author
Ellen Dugan is the award-winning author of fifteen books, and is known as the "Garden Witch." A psychic-clairvoyant, she has been a practicing Witch for over thirty years. Well known for her candor and humor, she is a Master Gardener, and is the High Priestess of her Coven in the St. Louis area. Ellen teaches classes both online and across the country on Witchery, Psychic Protection, and Magick. She has contributed articles for over twelve years to Llewellyn's Magical Almanac, Witches Datebook, Sabbat Almanac, and Witches Calendar. Ellen's popular magickal books have been translated into over ten foreign languages. When she's not working on her next book project, or keeping up with her family (the kids are out on their own, and the youngest is in Graduate school), Ellen likes to unwind by working in her perennial gardens at home with her husband of 31 years. Ellen wholeheartedly encourages folks to reclaim their personal power and to personalize their Spell-craft. To go outside and connect with the spiritual side of nature. To get their hands dirty and discover the wonder and magick of natural world that surrounds them. Visit her popular syndicated "Blog of Witchery" at www.ellendugan.blogspot.com  You can visit her website at www.ellendugan.com