Murder in Vein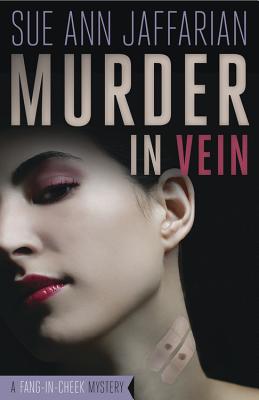 Murder in Vein
Midnight Ink, Paperback, 9780738723112, 318pp.
Publication Date: September 8, 2010
* Individual store prices may vary.
Buy at Local Store
Enter your zip code below to purchase from an indie close to you.
or
Not Currently Available for Direct Purchase
Description
The sight of the blood covered fangs exploded from her deep memory like a ballthrough a plate glass window. The man had bitten Bobby, torn into him like a barbequed rib on the Fourth of July.
Vampires. Vam-pires. Real live—er, dead (undead?)—bloodsucking vampires, living in the City of Angels. Madison Rose, a street-smart twenty-something waitress would never have believed it—until a vampire thwarts a vicious attack against her by appearing in the nick of time and finishing off her assailant in one tasty bite. Madison has been saved by the vampires—or has she? She learns that women have been going missing; their lifeless bodies turning up drained of blood. Now the murderer is after her. As the violence escalates, Madison, LAPD Detective Notchey, and a cadre of alluring and dangerous vampires search for the true killer—while Madison keeps a wary eye on the skittish and thirsty vampires. Will she survive to see the light of day? Praise:
"Like Stuart Kaminsky, Jaffarian juggles her franchises deftly, giving each a unique voice and appeal. Her latest series kickoff may be her best yet, blending supernatural sexy with down-to-earth sassy."—Kirkus Reviews
"Though Madison is no Sookie Stackhouse, she's definitely a keeper."—Publishers Weekly
"It will no doubt appeal to many paranormal mystery fans. . . Murder in Vein] is recommended for its likable characters and intriguing plot."—Library Journal
"Sue Ann Jaffarian never fails to make me chuckle with her three mystery series starring paralegal Odelia Grey, ghost Granny Apples, and now Murder in Vein, starring friendly, and not-so-friendly, neighborhood vampires."—Joanne Fluke, New York Times bestselling author of the Hannah Swensen Mysteries
"Thrilling, suspenseful, and darkly funny, Murder in Vein will leave you thirsting for more in this fabulous new series."—Kelli Stanley, author of City of Dragons
"Sue Ann Jaffarian has added her own inimitable style to the urban fantasy genre. Murder in Vein is fast, fun and, as the cover notes, deliciously fang-in-cheek "—Jeanne C. Stein, bestselling author of the Anna Strong Chronicles
"Luminescent in the night fog, Murder in Vein calls to the reader to come along with its determined protagonist Madison Rose down a road fraught with murder, chills, humor and downright sexy undead suspects. This tale of dangerous things that go bump in the night by Sue Ann Jaffarian makes for a pleasurable and exciting read."—Gary Phillips, author of The Underbelly.
About the Author
Sue Ann Jaffarian is a full-time paralegal who lives and works in Los Angeles. A member of Mystery Writers of America and Sisters In Crime, Sue Ann is the author of three mystery series--Odelia Grey, Ghost of Granny Apples, and Madison Rose--and also writes general fiction and short stories. She is widely sought after as a motivational and humorous speaker.
For the most up-to-date list of all Sue Ann's activities, visit the calendar page at www.sueannjaffarian.com.
*** "Sue Ann Jaffarian never fails to make me chuckle with her three mystery series starring paralegal Odelia Grey, ghost Granny Apples, and now Murder in Vein, starring friendly, and not-so-friendly, neighborhood vampires." --Joanne Fluke, New York Times bestselling author of the Hannah Swensen Mysteries