Mind Over Monsters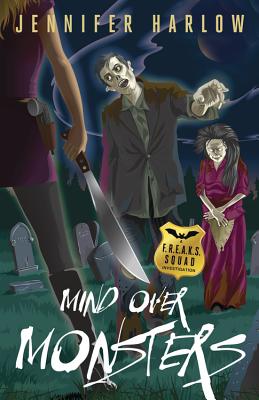 Mind Over Monsters
Midnight Ink, Paperback, 9780738726670, 280pp.
Publication Date: October 8, 2011
* Individual store prices may vary.
Not Currently Available for Direct Purchase
or
Shop Local
Enter your zip code below to purchase from an indie close to you.
Description
Beatrice Alexander is no ordinary schoolteacher—she can move objects with her mind, an embarrassing skill she hasn't yet mastered or embraced. After nearly killing her brother by accident, she joins the F.R.E.A.K.S. Squad, the Federal Response to Extra-Sensory and Kindred Supernaturals. This top-secret branch of the FBI combats ghosts, ghouls, and other monsters threatening humanity.
With her teammates—among them a handsome former-detective werewolf and an annoying Don Juan vampire who's dead-set on seducing her—Beatrice investigates her first case. Disgustingly dismembered bodies have turned up, bearing bite marks of the undead. Someone—or something—is raising a horde of hideous, bloodthirsty zombies. Armed with Bette, her trusty machete, Beatrice takes on the master of the flesh-devouring corpses, who's guarding a horrifying secret . . .
Featuring a team of monster hunters with unique paranormal abilities, the F.R.E.A.K.S. Squad Investigation series combines humor, suspense, and supernatural crime-fighting.
Praise: "Jennifer Harlow's debut novel had me laughing and gasping from start to finish "—VICTORIA LAURIE, New York Times bestselling author of the Ghost Hunter Mystery series and the Psychic Eye Mystery series
"Wonderful A gritty, dramatic police-procedural with a compelling heroine and a fascinating group of sidekicks. Looking forward to the sequel "—KAREN CHANCE, New York Times and USA Today bestselling author of the Cassandra Palmer series
"The most engaging detectives to face the walking dead since Scully and Mulder. Part urban fantasy, part police procedural, and entirely marvelous, monstrous fun."—LIBRARY JOURNAL
"If Donald Westlake had ever gotten around to writing a paranormal mystery, it would have sounded like this. Harlow's genre debut is funny, creepy and refreshingly brash."—KIRKUS REVIEWS.
About the Author
Jennifer Harlow (Atlanta) earned a BA from the University of Virginia in psychology. Her eclectic work experience ranges from government investigator to radio DJ to lab assistant. She is also a member of Sisters in Crime. Visit her online at JenniferHarlow.com.