Drop Dead on Recall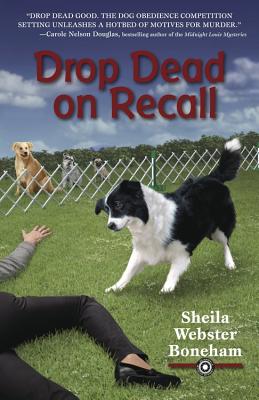 Drop Dead on Recall
Midnight Ink, Paperback, 9780738733067, 389pp.
Publication Date: October 2012
* Individual store prices may vary.
Buy Now
or
Shop Local
Enter your zip code below to purchase from an indie close to you.
Description
The passions aroused by canine competition can inspire violent fantasies. But when a talented handler falls flat on her face during the obedience trials, Australian Shepherd lover Janet MacPhail can hardly believe someone would actually resort to murder.
As she takes care of her mother and falls for a hunky black Lab owner, the last thing Janet needs is to find out she's become a "person of interest." Nosing around for clues that might clear her good name, Janet and her friends--Australian Shepherd Jay, tabby cat Leo, and eccentric neighbor Goldie Sunshine--discover the hard way that killers don't like snoops. And it soon becomes apparent that the next victim might just be Janet herself.
Praise: "Sheila Webster Boneham's delightful debut mystery combines a likeable sleuth and] a keep-'em-guessing plot. First place with a perfect score "--Susan Conant, author of the Dog Lovers Mystery series
About the Author
Sheila Webster Boneham is the author of the Animals in Focus Mystery series. Drop Dead on Recall, the first in the series, won the Dog Writers Association of America Award in Fiction, Mystery, or Humor. She is also the author of 17 nonfiction books, six of which have won major awards from the Dog Writers Association of America and the Cat Writers Association. For the past two decades Boneham has been showing her Australian Shepherds and Labrador Retrievers in various canine sports. She has also bred top-winning Aussies, and founded rescue groups for Aussies and Labs. Boneham holds a doctorate in folklore from Indiana University and resides in Wilmington, N.C. For more information, go to SheilaBoneham.com.