How the Irish Saved Civilization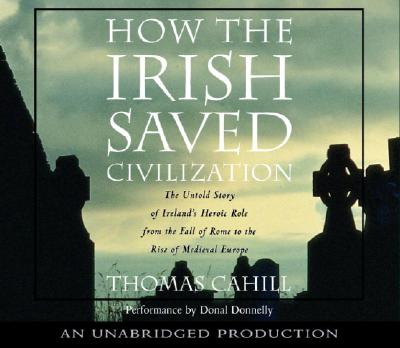 How the Irish Saved Civilization
Random House Audio Publishing Group, Compact Disc, 9780739309650
Publication Date: October 28, 2003
* Individual store prices may vary.
Buy at Local Store
Enter your zip code below to purchase from an indie close to you.
or
Buy Here
Description
The perfect St. Patrick's Day gift, and a book in the best tradition of popular history -- the untold story of Ireland's role in maintaining Western culture while the Dark Ages settled on Europe. Every year millions of Americans celebrate St. Patrick's Day, but they may not be aware of how great an influence St. Patrick was on the subsequent history of civilization. Not only did he bring Christianity to Ireland, he instilled a sense of literacy and learning that would create the conditions that allowed Ireland to become "the isle of saints and scholars" -- and thus preserve Western culture while Europe was being overrun by barbarians. In this entertaining and compelling narrative, Thomas Cahill tells the story of how Europe evolved from the classical age of Rome to the medieval era. Without Ireland, the transition could not have taken place. Not only did Irish monks and scribes maintain the very record of Western civilization -- copying manuscripts of Greek and Latin writers, both pagan and Christian, while libraries and learning on the continent were forever lost -- they brought their uniquely Irish world-view to the task. As Cahill delightfully illustrates, so much of the liveliness we associate with medieval culture has its roots in Ireland. When the seeds of culture were replanted on the European continent, it was from Ireland that they were germinated. In the tradition of Barbara Tuchman's A Distant Mirror, How The Irish Saved Civilization reconstructs an era that few know about but which is central to understanding our past and our cultural heritage. But it conveys its knowledge with a winking wit that aptly captures the sensibility of the unsung Irish who relaunched civilization.
About the Author
THOMAS CAHILL is the author of the three previous volumes in the Hinges of History series: "How the Irish Saved Civilization," "The Gifts of the Jews," and "Desire of the Everlasting Hills," They have been bestsellers, not only in the United States but also in countries ranging from Italy to Brazil. Cahill was recently invited to address the U.S. Congress on the Judeo-Christian roots of moral responsibility in American politics. He and his wife, Susan, also a writer, divide their time between New York and Rome.

An Irish-born film and stage actor, Donal Donnelly trained at Dublin's Gate theater and later joined the world-famous Abbey Theatre. In addition to playing numerous roles on Broadway and in films, he has established himself as a first-rate narrator. Known fur his inspired interpretations of James Joyce, his spirited, lyrical delivery has made him a listeners' favorite. Reviewers are ecstatic in their praise: "Donnelly could get an Oscar for reading the entries for 'Smith' from a phone directory. His fully voiced rendition is a wonder. His pacing is extraordinary and he brings each character...to life with an individual style," says Kliatt.
Praise For How the Irish Saved Civilization…
"Charming and poetic...an entirely engaging, delectable voyage into th edistant past, a small treasure." —The New York Times

"A lovely and engrossing tale . . . Graceful and instructive." —Richard Eder, Los Angeles Times

"Cahill's lively prose breathes life into a 1,600-year-old history." —The Boston Globe