The Rebels of Ireland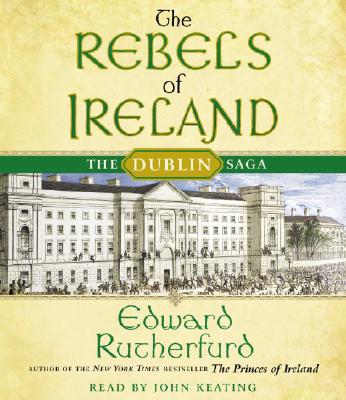 The Rebels of Ireland
The Dublin Saga
Random House Audio, Compact Disc, Abridged, Abridged, 9780739313237
Publication Date: February 28, 2006
* Individual store prices may vary.
Not Currently Available for Direct Purchase
or
Shop Local
Enter your zip code below to purchase from an indie close to you.
Description
Edward Rutherfurd's stirring account of Irish history, the Dublin Saga, concludes in this magisterial work of historical fiction. Beginning where the first volume, The Princes of Ireland, left off, The Rebels of Ireland takes us into a world transformed by the English practice of "plantation," which represented the final step in the centuries-long British conquest of Ireland. Once again Rutherfurd takes us inside the process of history by tracing the lives of several Dublin families from all strata of society – Protestant and Catholic, rich and poor, conniving and heroic.

From the time of the plantations and Elizabeth's ascendancy Rutherfurd moves into the grand moments of Irish history: the early-17th-century "Flight of the Earls," when the last of the Irish aristocracy fled the island; Oliver Cromwell's brutal oppression and confiscation of lands a half-century later; the romantic, doomed effort of "The Wild Geese" to throw off Protestant oppression at the Battle of the Boyne. The reader sees through the eyes of the victims and the perpetrators alike the painful realities of the anti-Catholic penal laws, the catastrophic famine and the massive migration to North America, the rise of the great nationalists O'Connell and the tragic Parnell, the glorious Irish cultural renaissance of Joyce and Yeats, and finally, the triumphant founding of the Irish Republic in 1922.

Written with all the drama and sweep that has made Rutherfurd the bestselling historical novelist of his generation, The Rebels of Ireland is both a necessary companion to The Princes of Ireland and a magnificent achievement in its own right.
About the Author
Edward Rutherfurd was born in Salisbury, England, and educated at Cambridge University and Stanford University in California. His bestselling novel Sarum is based on the history of Salisbury and Stonehenge. Russka, his second novel, recounts the sweeping history of Russia. London tells the two-thousand-year story of the great city, bringing all of the richness of London's past unforgettably to life. His novel The Forest is set in England's ancient New Forest. His last novel, The Princes of Ireland is the companion to The Rebels of Ireland covering the first eleven centuries of Ireland's history. Edward Rutherfurd divides his time between Dublin and New York.
Praise For The Rebels of Ireland…
INTERNATIONAL BESTSELLER

"This sweeping sequel to The Princes of Ireland displays the same successful Rutherfurd formula of fictionalized history that has served him and his readers so well before. . . . A swiftly moving narrative that deftly blends historical facts with a novelist's imagination." —The Calgary Herald


Praise for The Princes of Ireland:
"A sweeping, carefully constructed portrait of a nation."
–The New York Times

"The Michener of our time."
–Toronto Star

"Spellbinding. . . . Like James Michener and Leon Uris, Rutherfurd does a magnificent job of packaging a crackling good yarn within a digestible overview of complex historical
circumstances and events."
–Booklist