The Double Bind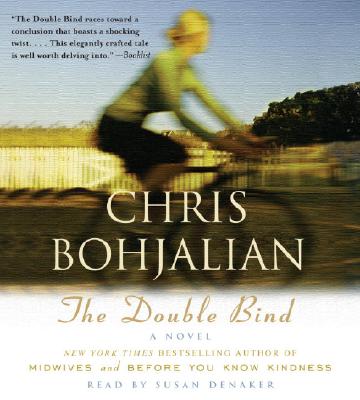 The Double Bind
Random House Audio, Compact Disc, Abridged, Abridged, 9780739341322
Publication Date: February 13, 2007
* Individual store prices may vary.
Buy at Local Store
Enter your zip code below to purchase from an indie close to you.
or
Not Currently Available for Direct Purchase
Description
As the New York Times has said, "Few writers can manipulate a plot with [Chris] Bohjalian's grace and power." Now he is back with an ambitious new novel that travels between Jay Gatsby's Long Island and rural New England, between the Roaring Twenties and the twenty-first century.
When college sophomore Laurel Estabrook is attacked while riding her bicycle through Vermont's back roads, her life is forever changed. Formerly outgoing, Laurel withdraws into her photography and begins to work at a homeless shelter. There she meets Bobbie Crocker, a man with a history of mental illness and a box of photographs that he won't let anyone see. When Bobbie dies suddenly, Laurel discovers that before he was homeless, Bobbie Crocker was a successful photographer.
As Laurel's fascination with Bobbie's former life begins to merge into obsession, she becomes convinced that some of his photographs reveal a deeply hidden, dark family secret and falls into a cat-and-mouse game with pursuers who claim they want to save her.
In this spellbinding literary thriller, rich with complex and compelling characters, Chris Bohjalian takes listeners on his most intriguing, most haunting, and most unforgettable journey yet.
About the Author
Chris Bohjalian is the critically acclaimed author of ten novels, including Midwives (a Publishers Weekly Best Book and an Oprah's Book Club selection) and his most recent New York Times bestseller, Before You Know Kindness. His work has been translated into eighteen languages and published in twenty-one countries. He lives with his wife and daughter in Vermont.
Praise For The Double Bind…
Laurel Estabrook, a young social worker living in Vermont, becomes obsessed with a box of photographs that belonged to a deceased homeless man, Bobbie Crocker. An amateur photographer herself, Laurel wonders how someone as destitute as Crocker came to possess such high-quality photos, many of them featuring famous people and, bizarrely, Laurel's childhood town. As she devotes more and more time to researching Crocker's past, her friends and family become concerned for her mental well-being. Six years previously, Laurel was attacked by two men in the woods while riding her bike, and though she recovered enough to finish college and get a job, she remains fragile. Bohjalian, whose Midwives was an Oprah Book Club selection, adds original and creative elements to this tale by blending the story of The Great Gatsby with Laurel's story and including photographs by a real-life homeless man named Bob Campbell. Far from being simply a mystery story, this is a complex exploration of the human psyche and its efforts to heal and survive in whatever manner possible. Recommended for all fiction collections.
-Library Journal, Starred Review


Psychological thriller, crime novel and "what-if" sequel to The Great Gatsby—with significant twists. Schizophrenic, yes, and alcoholic—but Bobbie Crocker isn't your stereotypical street person. Bohjalian (Before You Know Kindness, 2004, etc.) invests him with mystery; when he dies in Burlington, Vt., he leaves behind photographs from 1960s issues of Life magazine. Eartha Kitt, Dick Van Dyke, Muddy Waters—they're celebrity shots he took, combined with elegant evocations of Jazz Age Long Island. Laurel Estabrook, social worker at Crocker's shelter, discovers something else among them: a snapshot of herself riding a bike, just as she had, seven years before, when savaged by two thugs. The attack scarring her, she'd retreated into PTSD therapy, affairs with comforting, if noncommittal, father figures and a life less of ambition than service. Crocker's photos provide Laurel clues to their strangely interconnected pasts—and she sets out to decode them. Had the homeless man actually been to the manor born, son of Tom and Daisy Buchanan of fabled West Egg? His sister denies it, having spent most of her 70 years trying to whitewash her parents'reputation—Tom's brutality and Daisy's suspicious involvement in the car crash that killed one of his lovers. Had those wealthy, morally bankrupt parents caused Bobbie's "double bind," provoking schizophrenia by instilling in an unwanted child love/hate mixed messages? Or could Bobbie's father be someone yet more notorious, the darkly glamorous star of Fitzgerald's masterpiece? And why was Laurel's own likeness found in Crocker's cache? Sleuthing obsessively, she discovers that Bobbie had a son himself, a boy who grew up to terrify his father. And terrify her. Conflating literary lore, photographic analysis and meditations on homelessness and mental illness, Bohjalian produces his best and most complex fiction yet. Ultra-clever, and moving, too.
- Kirkus, Starred Review

"The Double Bind races toward a conclusion that boasts a shocking twist. . .This elegantly crafted tale is well worth delving into."
- Booklist

"Chris Bohjalian's The Double Bind is simply one of the best written, most compelling, artfully woven novels to grace bookshelves in years." --AP review
"Bohjalian is a master of literary suspense."
-Washington Post Book World
"Critics are giving Bohjalian…high marks for The Double Bind." –USA Today
"[An] imaginatively crafted novel." –Newsweek
"Great fiction…un-put-downable." –People
"This is top-notch Bohjalian fiction." –Entertainment Weekly
"A page-turner with a wicked twist at the end." –LIFE
"[An] artfully crafted, terrifying new novel.... Bohjalian has written a literary thriller." --LA Times
"Truth may be stranger than fiction, but this book makes the case that truth is also more valuable as a source of inspiration." –Daily News
"A literate thriller about homelessness, random brutality and an obsession with characters from Fitzgerald's 'Great Gatsby.'" --New York Post
"[Bohjalian writes] the sorts of books people stay awake all night to finish, and The Double Bind exerts that same hypnotic tug." --Washington Post Book World
"Clearly the most viscerally exciting of Bohjalian's normally cerebral books." –Milwaukee Journal Sentinel
"This psychological thriller…offers a chilling depiction of the ways we choose to remember as well as what we forget." –Daily News
"An intriguing mix of fact and fiction. . .powerful. . .a shocker" --The Courant
"Bohjalian fills The Double Bind with gripping twists and turns." –Redbook
"Part mystery and part psychological exploration…will certainly be interesting book-group fodder." –The Denver Post
"Part psychological mystery and part literary puzzle." –The Record (Bergen County, NJ)
"The suspense takes a twist at the end, which flips the story upside down." - Vermont Today