Ghost Soldiers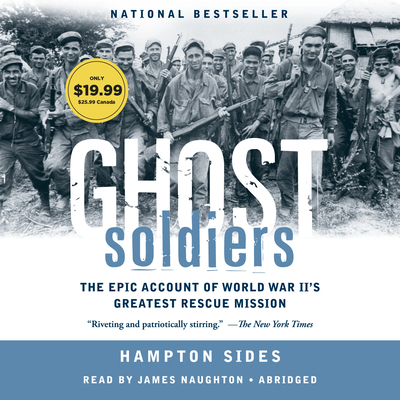 Ghost Soldiers
The Forgotten Epic Story of World War II's Most Dramatic Mission
Random House Audio Publishing Group, Compact Disc, Abridged, 9780739341766
Publication Date: September 5, 2006
* Individual store prices may vary.
Buy at Local Store
Enter your zip code below to purchase from an indie close to you.
or
Buy Here
Description
A tense, powerful, grand account of one of the most daring exploits of World War II. On January 28, 1945, 121 hand-selected troops from the elite U.S. Army 6th Ranger Battalion slipped behind enemy lines in the Philippines. Their mission: March thirty miles in an attempt to rescue 513 American and British POWs who had spent three years in a surreally hellish camp near the city of Cabanatuan. The prisoners included the last survivors of the Bataan Death March left in the camp, and their extraordinary will to live might soon count for nothing--elsewhere in the Philippines, the Japanese Army had already executed American prisoners as it retreated from the advancing U.S. Army. As the Rangers stealthily moved through enemy-occupied territory, they learned that Cabanatuan had become a major transshipment point for the Japanese retreat, and instead of facing the few dozen prison guards, they could possibly confront as many as 8,000 battle-hardened enemy troops. Hampton Sides's vivid minute-by-minute narration of the raid and his chronicle of the prisoners' wrenching experiences are masterful. But Ghost Soldiers is far more than a thrilling battle saga. Hampton Sides explores the mystery of human behavior under extreme duress--the resilience of the prisoners, who defied the Japanese authorities even as they endured starvation, tropical diseases, and unspeakable tortures; the violent cultural clashes with Japanese guards and soldiers steeped in the warrior ethic of Bushido; the remarkable heroism of the Rangers and Filipino guerrillas; the complex motivations of the U.S. high command, some of whom could justly be charged with abandoning the men of Bataan in 1942; and the nearly suicidal bravado of several spies, including priests and a cabaret owner, who risked their lives to help the prisoners during their long ordeal. At once a gripping depiction of men at war and a compelling story of redemption, Ghost Soldiers joins such landmark books as Flags of Our Fathers, The Greatest Generation, The Rape of Nanking, and D-Day in preserving the legacy of World War II for future generations. From the Hardcover edition.
About the Author
A native of Memphis, Hampton Sides is editor-atlarge for Outside magazine and the author of the international best-seller, Ghost Soldiers (Doubleday), which was the basis for the 2005 Miramax film, The Great Raid. Ghost Soldiers won the 2002 PEN USA award for non-fiction and the 2002 Discover Award from Barnes & Noble, and his magazine work has been twice nominated for National Magazine Awards for feature writing. Hampton is also the author of Americana (Anchor) and Stomping Grounds (William Morrow). A graduate of Yale with a B.A. in history, he lives in New Mexico with his wife, Anne, and their three sons. From the Trade Paperback edition.
Praise For Ghost Soldiers…
Advance Praise for Ghost Soldiers:

"Told with skill and intelligence, this is the story of a stirring and heroic rescue operation in World War II. Ghost Soldiers belongs on a shelf with General Hal Moore's and Joe Galloway's We Were Soldiers Once...And Young, and Mark Bowden's Black Hawk Down."
--David Halberstam, author of Playing for Keeps and The Best and the Brightest

"Ghost Soldiers is an enthralling, deeply disturbing look at the horrors of war. It is impossible to read this book without wondering uneasily how you, the reader, would respond if forced to undergo the monstrous trials described with such immediacy by Hampton Sides. Would you be able to endure? And at what cost to your soul?"
--Jon Krakauer, author of Into the Wild and Into Thin Air

"Ghost Soldiers took me on a queasy journey deep into the realm of pure evil--then rescued me in a blaze of heroics and righteous vengeance. There's grief, despair, and terror here, but there's also adventure, courage, and joy. It's a Great Escape for the Pacific Theater, but with a much more satisfying ending."
--Erik Larson, author of Isaac's Storm

"Utterly compelling and impressively detailed, Ghost Soldiers dramatically recounts the story behind the Bataan Death March and the realities of survival in a Japanse prison camp. Hampton Sides has fashioned a true-to-life narrative as intelligently orchestrated and satisfying as the raid that ultimately liberated these men."
--Stewart O'Nan, author of Everyday People and The Circus Fire

"Read the first ten pages of this moving book and you will be hooked by a riveting tale of American courage and heroism. In Ghost Soldiers Hampton Sides brings to life a forgotten adventure of World War II that you will always remember."
--James Bradley, author of Flags of Our Fathers