Stephenie Meyer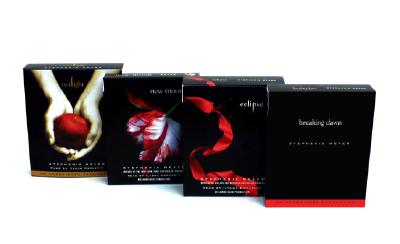 Stephenie Meyer
Twilight/New Moon/Eclipse/Breaking Dawn CD Ppk
Listening Library (Audio), Compact Disc, 9780739352359, 16pp.
Publication Date: August 2, 2008
* Individual store prices may vary.
Buy Now
or
Shop Local
Enter your zip code below to purchase from an indie close to you.
Description
Stephenie Meyer holds you spellbound with her incredible "New York Times" bestselling Twilight Saga. Experience the entire series on audio with narrator Ilyana Kadushin and prepare to be amazed by the more than 60 hours of listening pleasure.
"Twilight" (11 CDs):
When Isabella Swan moves to the gloomy town of Forks, Washington, and meets the mysterious, alluring Edward Cullen, her life takes a thrilling and terrifying turn. With his porcelain skin, golden eyes, mesmerizing voice, and supernatural gifts, Edward is both irresistible and impenetrable. Up until now, he has managed to keep his true identity hidden, but Bella is determined to uncover his dark secret.
"New Moon" (12 CDs):
For Bella Swan, there is one thing more important than life itself: Edward Cullen. But being in love with a vampire is even more dangerous than Bella ever could have imagined. Edward has already rescued Bella from the clutches of one evil vampire, but now, as their daring relationship threatens all that is near and dear to them, they realize their troubles may be just beginning.
"Eclipse" (13 CDs):
As Seattle is ravaged by a string of mysterious killings and a malicious vampire continues her quest for revenge, Bella once again finds herself surrounded by danger. In the midst of it all, she is forced to choose between her love for Edward and her friendship with Jacob knowing that her decision has the potential to ignite the ageless struggle between vampire and werewolf.
"Breaking Dawn " (14 CDs):
"Twilight" tempted the imagination. "New Moon" made readers thirsty for more. "Eclipse "turned the saga into a worldwide phenomenon. And now, the story that everyone has been waiting for....
"Breaking Dawn, " the final installment in the #1 bestselling Twilight Saga, will take your breath away.
About the Author
Stephenie Meyer, author of the bestselling Twilight and New Moon, graduated from Brigham Young University with a degree in English Literature. She lives with her husband and three young sons in Arizona.
Ilyana Kadushin is best known for her narration of the "Twilight" audiobook series, and has worked on other audiobooks, including "The Memory Keeper s Daughter, Post Grad "and" Dune, "which won an Audie Award. Her other voice work includes national commercials, animation, and popular video games such as "Lord of the Rings".
Kadushin has performed as both an actor and a singer for companies including Nickelodeon, BBC America, Sesame Street Television, MTV, and Cartoon network. She sang on the soundtrack of HBO Best Documentary Film Award & Finalist "Separate But Equal".