Junie B. Jones Collection Books 17-24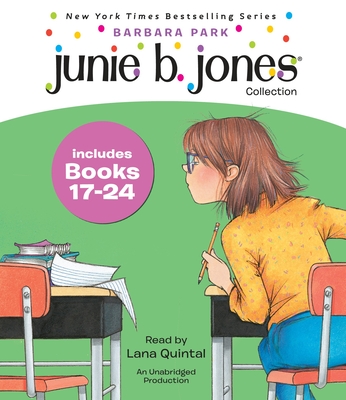 Junie B. Jones Collection Books 17-24
Listening Library, Compact Disc, 9780739356340, 6pp.
Publication Date: September 25, 2007
* Individual store prices may vary.
Buy at Local Store
Enter your zip code below to purchase from an indie close to you.
or
Buy Here
Description
Junie B. Jones Is a Graduation Girl
All the children in Room Nine are excited when they get their bright white graduation gowns. Then an accident happens Can Junie B. find a way to fix things?
Junie B., First Grader (at last )
When Junie B. tries to read words on the chalkboard, she can t seem to see what everyone else is seeing Is it possible she might actually end up wearing . . . "glasses?"
Junie B. First Grader: Boss of Lunch
Junie B. is getting to help in the school cafeteria. Maybe one of these days she ll be the boss of this whole entire operation
Junie B. First Grader: Toothless Wonder
Only Junie B. is not that thrilled about this. Because what if she looks like toothless Uncle Lou? And what's all this tooth fairy business? So many questions, so little time.
Junie B., First Grader: Cheater Pants
Junie B. has all the answers when it comes to cheating. It's just wrong But what about copying someone else's homework? Could she be a cheater pants and not even know it?
Junie B., First Grader: One Man Band
It's time for the first-grade kickball tournament Only Junie B. has hurt her big piggy toe and she can t play on the team. Maybe she could be in Sheldon's halftime show
Junie B., First Grader: Shipwrecked
Room One is putting on a play about explorers looking for the New World Plus Junie B. thinks she might be the star of the whole entire production
Junie B., First Grader: Boo . . . and I MEAN it
It's Halloween Only Junie B. is afraid to go trick-or-treating. But then she gets an idea for a costume to out-scare even the creepiest competition.
About the Author
Barbara Park is one of today's funniest and most popular authors for middle-graders. Her many successful novels include "Mick Harte Was Here, " which received fifteen state Children's Choice awards, including the Texas Bluebonnet Award; "The Kid in the Red Jacket;" and "Skinnybones." She is also the best-selling author of the Junie B. Jones books, and "Psssst...It's Me, the Bogeyman, " a picture book.
Ms. Park lives in Scottsdale, Arizona, with her husband, Richard.
Quintal has appeared on stage in Grease, and in the off Broadway production of The Wind and the Willows. Her film credits include The Eden Myth and The Soul of Wit and on television she has appeared in All My Children.