Thinking, Fast and Slow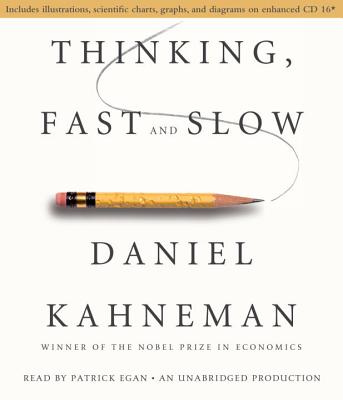 Thinking, Fast and Slow
Random House Audio Publishing Group, Compact Disc, 9780739357989, 16pp.
Publication Date: October 25, 2011
* Individual store prices may vary.
Buy at Local Store
Enter your zip code below to purchase from an indie close to you.
or
Buy Here
Description
The guru to the gurus at last shares his knowledge with the rest of us. Nobel laureate Daniel Kahneman's seminal studies in behavioral psychology, behavioral economics, and happiness studies have influenced numerous other authors, including Steven Pinker and Malcolm Gladwell. In Thinking, Fast and Slow, Kahneman at last offers his own, first book for the general public. It is a lucid and enlightening summary of his life's work. It will change the way you think about thinking.

Two systems drive the way we think and make choices, Kahneman explains: System One is fast, intuitive, and emotional; System Two is slower, more deliberative, and more logical. Examining how both systems function within the mind, Kahneman exposes the extraordinary capabilities as well as the biases of fast thinking and the pervasive influence of intuitive impressions on our thoughts and our choices. Engaging the reader in a lively conversation about how we think, he shows where we can trust our intuitions and how we can tap into the benefits of slow thinking, contrasting the two-system view of the mind with the standard model of the rational economic agent.

Kahneman's singularly influential work has transformed cognitive psychology and launched the new fields of behavioral economics and happiness studies. In this path-breaking book, Kahneman shows how the mind works, and offers practical and enlightening insights into how choices are made in both our business and personal lives--and how we can guard against the mental glitches that often get us into trouble.
About the Author
Daniel Kahneman is Eugene Higgins Professor of Psychology Emeritus at Princeton University and a professor of public affairs at the Woodrow Wilson School of Public and International Affairs. He received the 2002 Nobel Prize in Economic Sciences for his pioneering work with Amos Tversky on decision-making.

Patrick Egan is the author of three books; a novel, Standing Stone, a memoir, An American in Dorset and a collection of short stories, In All The Wrong Places. He has also written numerous articles on history, education and science that have been published both regionally and nationally. His works have appeared in Adirondack Life, Adirondac, The Science Teacher, Science Digest, Pennsylvania Naturalist and other periodicals. He is a native of Owego, New York and has lived in Connecticut, Pennsylvania, Alaska, Louisiana and New York City. Patrick has traveled widely in the U.S., Canada, China, Russia and Europe. He was an exchange teacher to England for a year in the 1980s. A retired science teacher, Patrick lives in the Adirondack Mountains of New York State with his wife, Mariam. His leisure interests include hiking, kayaking, photography, astronomy, watercolor painting, gravestone rubbing and keeping his passport up to date.