South of Deadwood/Too Tough to Brand/A Gun for Kilkenny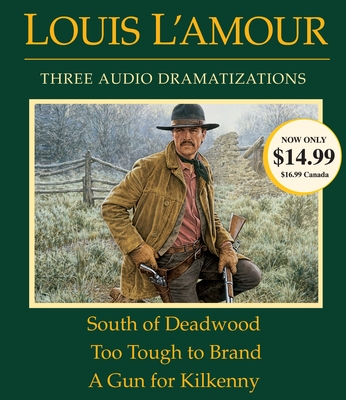 South of Deadwood/Too Tough to Brand/A Gun for Kilkenny
Random House Audio Publishing Group, Compact Disc, 9780739358870, 3pp.
Publication Date: November 4, 2008
* Individual store prices may vary.
Buy Now
or
Shop Local
Enter your zip code below to purchase from an indie close to you.
Description
South of Deadwood

Take the stagecoach into Deadwood with Ranger Chick Bowdrie to bring a notorious killer back to Texas - and justice. When he meets a beautiful young woman convinced Curly Starr can clear her brother's name, Bowdrie agrees to help. But first he must elude the rest of Starr's gang who wait for the legendary lawman and his prisoner to leave town - so they can kill them both!

Too Tough to Brand

Texas Ranger Chick Bowdrie was called to the O Bar O Ranch when the foreman, Bert Ramey, disappeared with $15,000. But from what Bowdrie can tell, Ramey is no thief. Karen Ramey believes her foster father may have been murdered, and she is deathly afraid of their new foreman. Meanwhile, Lee Karns, the owner of the ranch, is behaving suspiciously--but how could he be involved with the theft of his own money? If the questions outnumber the answers, that makes it a case for Bowdrie!

A Gun for Kilkenny

A dusty stranger comes into the town of Boquilla in search of a drink after many hard weeks riding the trails. He enters the saloon, and within minutes the town bully is dead on the floor. Who is the stranger? Is he John Wesley Hardin? Or the legendary Marshal Kilkenny? Speculation and admiration run through the town like wildfire.

To show their gratitude, the townsfolk persuade the stranger to stay awhile. All the free whiskey he can drink and the finest hotel room in town are only the beginning of the good life for this man, more accustomed to the cold hard ground and meals of greasy bacon and biscuits.

The attractions of the dangerous stranger are also irresistible to the pretty young women in town. But the stranger's luck cannot continue. Someone suspects that he is not who he pretends to be. After all, according to legend, Kilkenny always leaves town after killing the bad guy. Why would he stick around this time?
About the Author
Louis L'Amour (1908-1988) was an American author whose Western stories are loved the world over. Born in Jamestown, North Dakota, he was the most decorated author in the history of American letters. In 1982 he was the first American author ever to be awarded a Special National Gold Medal by the United States Congress for lifetime literary achievement, and in 1984 President Reagan awarded him the Medal of Freedom, the highest civilian honor in the nation. He was also a recipient of the Theodore Roosevelt Rough Rider Award.