Secrets of Eden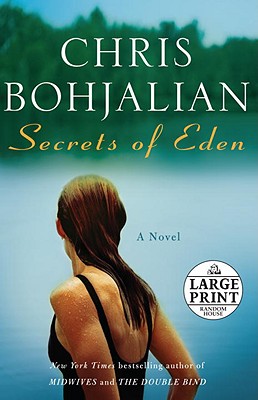 Secrets of Eden
Random House Large Print Publishing, Paperback, Large Print, 9780739377390, 491pp.
Publication Date: February 2, 2010
* Individual store prices may vary.
Buy at Local Store
Enter your zip code below to purchase from an indie close to you.
or
Not Currently Available for Direct Purchase
Description
From the bestselling author of The Double Bind, Midwives, and Skeletons at the Feast comes a novel of shattered faith, intimate secrets, and the delicate nature of sacrifice.

"There," says Alice Hayward to Reverend Stephen Drew, just after her baptism, and just before going home to the husband who will kill her that evening and then shoot himself. Drew, tortured by the cryptic finality of that short utterance, feels his faith in God slipping away and is saved from despair only by a meeting with Heather Laurent, the author of wildly successful, inspirational books about . . . angels. 

Heather survived a childhood that culminated in her own parents' murder-suicide, so she identifies deeply with Alice's daughter, Katie, offering herself as a mentor to the girl and a shoulder for Stephen – who flees the pulpit to be with Heather and see if there is anything to be salvaged from the spiritual wreckage around him.
But then the State's Attorney begins to suspect that Alice's husband may not have killed himself. . .and finds out that Alice had secrets only her minister knew.

Secrets of Eden is both a haunting literary thriller and a deeply evocative testament to the inner complexities that mark all of our lives.  Once again Chris Bohjalian has given us a riveting page-turner in which nothing is precisely what it seems.  As one character remarks, "Believe no one.  Trust no one.  Assume all of our stories are suspect." 
About the Author
Chris Bohjalian is the author of numerous books, many of which have been on the "New York Times" bestseller lists. His novel "Midwives "was an Oprah Book Club pick and a #1 "New York Times" bestseller. His work has been translated into over twenty-five languages.
Praise For Secrets of Eden…
A "Must-Read Book for Spring," Today Show, Weekend Edition

IndieBound Indie Next pick, February 2010

"Superb. . . .Fans of Bohjalian's 11 other novels (including Midwives) know to expect the unexpected and, thanks to his creativity and cunning, readers usually get walloped by one heck of a plot twist by book's end. In Secrets of Eden, the old saw that none of us knows what really goes on in a house when the shades are drawn rings chillingly true."
—Carol Memmott, USA Today

"Superbly written - vivid and horrifying without being melodramatic....a tribute to Bohjalian's storytelling skill."
—The Boston Globe

"Suspenseful. . .searing. . .Bohjalian has written a literary murder mystery that hooks readers early and keeps its secrets until the end. . .Bohjalian's book is about the power of secrets and sacrifice and a warning against jumping to judgment. Those who doubt their faith, he writes, are sometimes the strongest among us."
—Amy Driscoll, The Miami Herald

"Chris Bohjalian has always known how to keep the pages turning. In his latest novel, a small Vermont hamlet has been racked by a well-established couple's apparent murder-suicide. Bohjalian describes the aftermath of that ruinous night in varied voices, effortlessly slipping into the heads of the shaken local pastor, the no-nonsense deputy state attorney, and the best-selling author whose own past draws her to the scene of the crime. . .[A] study of guilt and grief."
—Entertainment Weekly

"Page-turning. . .Bohjalian has a knack for creating nuanced, detailed first-person female characters. . .SECRETS OF EDEN speeds along pleasingly as both thriller and character study."
—Seattle Times

 "To call this fine novel a mystery would be like calling the Hallelujah Chorus a nice song. . .Bohjalian has written a gripping story that keeps the reader turning pages to find out what really happened...But there is so much more in this rich story. Bohjalian delves into the profound mysteries of human existence. What is faith? What is love? And who are really the angels among us?"
—Winston-Salem Journal

"[A] suspenseful page-turner...This book will entertain you with its suspense, but it will also make you think about how hurtful secrets can be."
—Minneapolis Star-Tribune

"Secrets are sprinkled throughout a Chris Bohjalian novel like loose change spilled from the pockets of a master storyteller. . .exquisite. . .magic is rediscovered in 'Secrets of Eden.'"
—Tom Mayer, Lake City Reporter

"Bohjalian has built a reputation on his rich characters and immersing readers in diverse subjects—homeopathy, animal rights activism, midwifery—and his latest surely won't disappoint. The morning after her baptism into the Rev. Stephen Drew's Vermont Baptist church, Alice Hayward and her abusive husband are found dead in their home, an apparent murder-suicide. Stephen, the novel's first narrator, is so racked with guilt over his failure to save Alice that he leaves town. Soon, he meets Heather Laurent, the author of a book about angels whose own parents' marriage also ended in tragedy. Stephen's deeply sympathetic narration is challenged by the next two narrators: deputy state attorney Catherine Benincasa, whose suspicions are aroused initially by Stephen's abrupt departure (and then by questions about his relationship with Alice), and Heather, who distances herself from Stephen for similar reasons and risks the trip into her dark past by seeking out Katie, the Haywards' now-orphaned 15-year-old daughter who puts into play the final pieces of the puzzle, setting things up for a touching twist. Fans of Bohjalian's more exotic works will miss learning something new, but this is a masterfully human and compassionate tale."
—Publishers Weekly, starred and boxed review

Bohjalian "drops bombshell clues...and weaves subtle nuances of doubt and intrigue into a taut, read-in-one-sitting murder mystery."
—Booklist, starred and boxed review

"Bohjalian's most splendid accomplishment to date. . .A fantastic choice for book clubs, this novel deals beautifully with controversial topics of domestic abuse, faith, and adultery without resorting to sensationalism. Breathtaking."
—Library Journal, starred review

"Specificity and complexity and. . .a somber power."
—Kirkus Reviews

Praise for Skeletons at the Feast
 
"Suspenseful. . .romantic. . .a deeply satisfying novel." 
-- The Washington Post Book World
 
"Poignant. . .Harrowing. . . Bohjalian has given us an important addition to the story of World War II."
—The Boston Globe
 
 "Ingenious. . .compelling. . .Judging who's right or wrong is difficult and one senses that's just the way Bohjalian wants it." 
-- Los Angeles Times
 
"Mixes the nail-biting brutality of The Kite Runner with the emotional intimacy of Anne Frank's diary."
— Austin American-Statesman
 
Praise for The Double Bind
 
"The Double Bind is simply one of the best written, most compelling, artfully woven novels to grace bookshelves in years. Immediately after the spellbinding surprise ending, readers will want to begin again at the first page. It's THAT good."
– Associated Press
 
"Artfully constructed and fiercely felt. . . Bohjalian. . .has deliberately wandered into thriller territory. . .He's playing with our minds in a way that ultimately evokes not Fitzgerald but that master of deviousness, Alfred Hitchcock."  
— The Miami Herald
 
"Terrifying. . .Laurel is an unforgettable, vulnerable, complicated character."
—The Los Angeles Times