Sports from Hell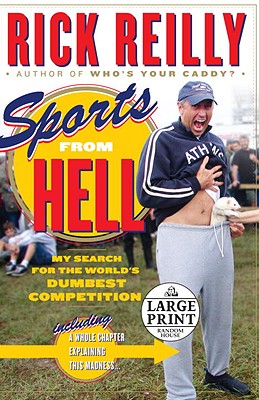 Sports from Hell
My Search for the World's Dumbest Competition
Random House Large Print Publishing, Paperback, Large Print, 9780739377437, 298pp.
Publication Date: May 18, 2010
* Individual store prices may vary.
Buy at Local Store
Enter your zip code below to purchase from an indie close to you.
or
Not Currently Available for Direct Purchase
Description
The most popular sports columnist in America puts his life (and dignity) on the line in search of the most absurd sporting event on the planet.

What is the stupidest sport in the world? Not content to pontificate from the sidelines, Rick Reilly set out on a global journey—with stops in Australia, New Zealand, Finland, Denmark, England, and even a maximum security prison at Angola, Louisiana—to discover the answer to this enduring question.

From the physically and mentally taxing sport of chess boxing to the psychological battlefield that is the rock-paper-scissors championship, to the underground world of illegal jart throwing, to several competitions that involve nudity, Reilly, in his valiant quest, subjected himself to both bodily danger and abject humiliation (or, in the case of ferret legging, both).

These fringe sports offer their participants a chance to earn a few bucks and achieve the eternal glory that is winning—even when the victory in question might strike some as pointless, like the ability to sit in an oven-hot sauna for the longest time. It's debatable whether these sports push the body or just human idiocy to the outermost limits, but one thing is for sure: Sports in Hell is laugh-out-loud hilarious and will deliver plenty of unabashed fun.
About the Author
Eleven-time National Sportswriter of the Year Rick Reilly is a front-page columnist for ESPN.com. He is the author of 10 books, including the "New York Times" bestsellers "Hate Mail from Cheerleaders, Missing Links, "and "Who's Your Caddy?"
Praise For Sports from Hell…
Praise for Who's Your Caddy?
"Reilly could write about lawn bowling and make it funny, informative, and entertaining. You never know what the next page is going to bring." —Los Angeles Times
 
 
"Good, wacky fun—and the primo Father's Day gift of the year" - Fortune
 
 
 
Praise for Missing Links
"You don't need to know your bogeys from your birdies to find at least three laughs per page in this novel."
-The New York Times Book Review

"Part Damon Runyon, part Raymond Chandler, and part Caddyshack...I was hooked for the full 18."
-Entertainment Weekly

Praise for Shanks for Nothing
 
"The most entertaining golf novel not written by Dan Jenkins. This is a must read for any fan of golf—or of good humor." -Star Telegram

"Showcases the underrated eloquence of male banter…fast-paced, hilarious (and often raunchy) hijinks…Reilly can add another stroke of genius to his scorecard" -Rocky Mountain News


Praise for Slow-Mo
"A splendid comic device whose literal telling of his NBA career says more about pro sports than he could ever know."-Chicago Tribune

"[An] inspired satire, a laugh-a-minute, sometimes bawdy, over-the-top riff on everyone and everything associated with professional basketball. If you don't find something to laugh at with Slo-Mo!, run out, don't walk, and find a sense of humor." -Denver Post