The Girl Who Played with Fire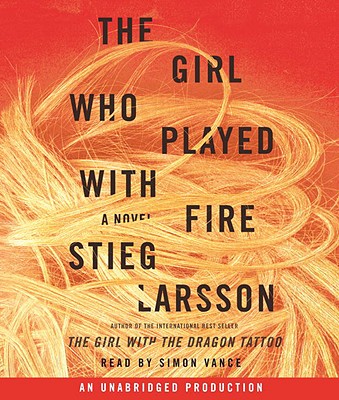 The Girl Who Played with Fire
Random House Audio Publishing Group, Compact Disc, 9780739384176, 15pp.
Publication Date: July 28, 2009
* Individual store prices may vary.
Buy at Local Store
Enter your zip code below to purchase from an indie close to you.
or
Buy Here
Description
Mikael Blomkvist, crusading journalist and publisher of the magazine "Millennium, " has decided to run a story that will expose an extensive sex trafficking operation between Eastern Europe and Sweden, implicating well-known and highly placed members of Swedish society, business, and government.
But he has no idea just how explosive the story will be until, on the eve of publication, the two investigating reporters are murdered. And even more shocking for Blomkvist: the fingerprints found on the murder weapon belong to Lisbeth Salander the troubled, wise-beyond-her-years genius hacker who came to his aid in "The Girl with the Dragon Tattoo, " and who now becomes the focus and fierce heart of "The Girl Who Played with Fire."
As Blomkvist, alone in his belief in Salander's innocence, plunges into an investigation of the slayings, Salander herself is drawn into a murderous hunt in which she is the prey, and which compels her to revisit her dark past in an effort to settle with it once and for all.
About the Author


Simon Vance is an award-winning actor and an AudioFile Golden Voice with over forty Earphones Awards. He has won thirteen prestigious Audie Awards and was Booklist's very first Voice of Choice in 2008. He has narrated more than eight hundred audiobooks over almost thirty years, beginning when he was a radio newsreader for the BBC in London.
Praise For The Girl Who Played with Fire…
"The Girl Who Played with Fire will likely confirm Larsson's position as the most successful crime novelist in the world."
–Slate

"Larsson has bottled lightning . . . Formally at least, The Girl Who Played with Fire is a muscle car. But a European engine purrs beneath its hood . . . It buzzes with ideas [and] fizzes with fury."
–Los Angeles Times

"A dynamite thriller."
–Liz Smith, Variety

"These books grabbed me and kept me reading with eyes wide open with the same force as the best of the series on the TV monitor . . . Move over, Tony Soprano . . . Blomkvist is a wonderfully appealing character. And the girl of the title is one of the most fascinating characters in modern genre fiction."
–Alan Cheuse, San Francisco Chronicle

"A nail-biting tale of murder and cover-ups in which the victims are tantalizingly hard to distinguish from the villains. . . Believe the hype . . . It's gripping stuff."
–People

"Another gripping, stay-up-all-night read."
–Entertainment Weekly

"Lisbeth Salander [is] one of the most startling, engaging heroines in recent memory . . . Some of the books' appeal comes from the Swedish setting, but most of it is a result of the author writing from the heart, not from a formula. Larsson clearly loved his brave misfit Lisbeth. And so will you."
–USA Today

"The Girl Who Played with Fire confirms the impression left by Dragon Tattoo. Here is a writer with two skills useful in entertaining readers royally: creating characters who are complex, believable, and appealing even when they act against their own best interest; and parceling out information in a consistently enthralling way."
–Washington Post

"Lisbeth Salander was one of the most original and memorable heroines to surface in a recent thriller: picture Angelina Jolie's Lara Croft endowed with Mr. Spock's intense braininess and Scarlett O'Hara's spunky instinct for survival . . . Now Salander is back in an even more central role . . . The reason it works is the same reason that Dragon Tattoo worked: Salander and Blomkvist transcend their genre and insinuate themselves in the reader's mind through their oddball individuality, their professional competence and, surprisingly, their emotional vulnerability."
–Michiko Kakutani, The New York Times

"A suspenseful, remarkably moving novel . . . This is the best Scandinavian novel to be published in the U.S. since Smilla's Sense of Snow . . . Salander is one of those characters who come along only rarely in fiction: a complete original, larger than life yet firmly grounded in realistic detail, utterly independent yet at her core a wounded and frightened child . . . One of the most compelling characters to strut the crime-fiction stage in years."
–Booklist (starred)

"This is complex and compelling storytelling at its best, propelled by one of the most fascinating characters in recent crime fiction."
–Library Journal (starred)

"Fans of intelligent page-turners will be more than satisfied by Larsson's second thriller . . . [It has] powerful prose and intriguing lead characters."
–Publishers Weekly

"Fans of postmodern mystery will revel in Larsson's latest . . . also starring journo extraordinaire Mikael Blomkvist and Lisbeth Salander, the Lara Croft of the land of the midnight sun . . . Lisbeth is really a Baltic MacGyver with a highly developed sense of outrage, a sociopathic bent and brand-new breast implants, to say nothing of a well-stuffed bankbook."
–Kirkus Reviews

Reviews from abroad:


"As good as crime writing gets . . . Completely absorbing and engaging on both a narrative and a moral level . . . Lisbeth Salander [is] a remarkable heroine."
–The Times Literary Supplement

"The huge pleasure of these books is Salander, a fascinating creation with a complete and complex psychology . . . Salander is recognisably a Lara Croft for grown-ups–a female Terminator."
–The Guardian

"Addictive . . . We are in the hands of a master . . . Salander and Blomkvist [are] the finest and strangest partnership in crime fiction since Holmes and Watson . . . Stunningly memorable."
–Scotland on Sunday

"The Girl Who Played with Fire is that rare thing–a sequel that is even better than the book that went before . . . A combination of urgent, multilayered thriller, traditional police procedural and articulate examination of the way a supposedly open-minded country like Sweden treats its vulnerable women and children."
–The Observer

"With the spiky and sassy Salander, Larsson created the most original heroine to emerge in crime fiction for many years . . . She seizes the book by the scruff of its neck and binds the reader in fetters of fascination."
–The Independent

"This second novel is even more gripping and astonishing than the first. What makes it outstanding is the author's ability to handle dozens of characters and parallel narratives without losing tension. Larsson was a fantastic storyteller. This novel will leave readers on the edge of their seats."
–The Sunday Times (London)

"The best thriller I've read in ages . . . If you want a book to take on your lifetime trip on the Trans-Siberian railway, The Girl Who Played With Fire is the one."

–Evening Herald (Ireland)