Coast to Coast Ghosts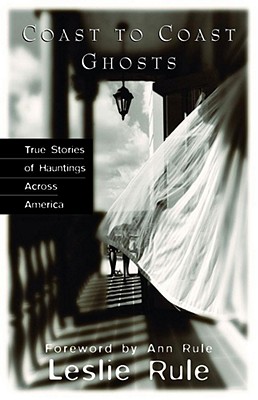 Coast to Coast Ghosts
Andrews McMeel Publishing, Paperback, 9780740718663, 249pp.
Publication Date: August 2001
* Individual store prices may vary.
Buy Now
or
Shop Local
Enter your zip code below to purchase from an indie close to you.
Description
Ghosts have been the entertaining subject of many works of fiction, but they're even more intriguing (and perhaps even scarier) when they are the focus of real-life hauntings in our own backyard. An employee of the St. James Hotel in New Mexico watches in shock as a fair-haired toddler with a terribly disfigured face disappears "into" the floor. This is just one of the paranormal mysteries Leslie Rule shares with us--a result of extensive interviews and research uncovering the reasons behind ghost sightings across the country.
"Coast to Coast Ghosts "features dozens of spine-tingling, real-life ghost stories and approximately fifty black-and-white photographs taken by Rule, including some believed to have captured actual apparitions.
Only the reader can decide. . . .
About the Author
Leslie Rule is a professional photographer and the author of seven books with paranormal themes. She has also written dozens of articles for national magazines, including Reader's Digest. The daughter of best-selling true-crime author Ann Rule, Leslie grew up in a haunted house where her lifelong fascination with the paranormal began. She lives in the Seattle, Washington, area.Online:
www.ghostygirl.com
Ann Rule is the author of thirty-four previous New York Times bestsellers, all of them still in print. A former Seattle police officer, she knows the crime scene firsthand. She is a certified instructor for police training seminars and lectures to law enforcement officers, prosecutors, and forensic organizations, including the FBI and the American Academy of Forensic Sciences. For more than three decades, she has been a powerful advocate for victims of violent crime. She has testified before US Senate Judiciary subcommittees on serial murder and victims rights, and was a civilian adviser to ViCAP (Violent Criminal Apprehension Program). A graduate of the University of Washington, she holds a PhD in Humane Letters from Willamette University. She lives near Seattle and can be contacted through her Web page at www.authorannrule.com, on Facebook, and by email at AnnieR37@aol.com.