Nell Hill's Style at Home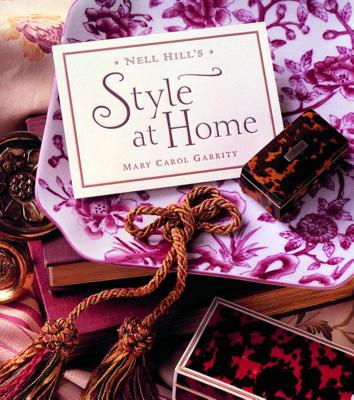 Nell Hill's Style at Home
Andrews McMeel Publishing, Hardcover, 9780740718748, 128pp.
Publication Date: August 2001
* Individual store prices may vary.
Shop Local
Enter your zip code below to find indies closest to you.
Description
Atchison, Kansas, used to be known as the hometown of Amelia Earhart. Now it's famous for two shops -- Nell Hill's and G. Diebolt's. Behind these two magical emporiums of home furnishings is Mary Carol Garrity, whose loyal customers come from across the country to seek her advice in decorating. Now Mary Carol has created a compilation of her favorite tips, tricks, and techniques in Nell Hill's Style At Home. Within its beautifully illustrated pages, Mary Carol tells readers where she gets her ideas, how to reflect their own style at home, and once they've made their home perfect, how to take it apart and do it again an even better way. Readers are guaranteed unlimited inspiration with Mary Carol's unique blend of style, creativity, and common sense. Learn how to create collections, group and regroup favorite accessories, and mix and match styles and sets of china fearlessly. Learn how to create still lifes with tableaux of your favorite things, corral them on trays, fence them in with stacks of books, and feature odd pieces of glass -- decanter stoppers, old bottles, vases without flowers -- as art. Learn how to personalize your rooms in unexpected ways: Recruit a platter as a kitchen sink backsplash or a cake stand as a soap dish.
About the Author
Mary Carol Garrity, heralded by "Forbes" magazine as "one of the hottest little retailers," is the dynamic proprietor of Nell Hill's, with locations in Atchison, Kansas, and Kansas City, Missouri. As one of today's top lifestyle resources---with her own paint and home accessory lines---Mary Carol is always on hand to personally answer customers' questions and offer real-life decorating solutions. She lives in Atchison, Kansas, with her husband, Dan.

Mary Caldwell is the widow of John Caldwell. She has led an adventurous life on three continents, and is now enjoying retirement in Florida.

BRYAN E. McCAY is the former art director for "Victoria" magazine and principal photographer for Mary Carol Garrity's "Nell Hill" decorating books. He lives in New York City.