Whip Your Life Into Shape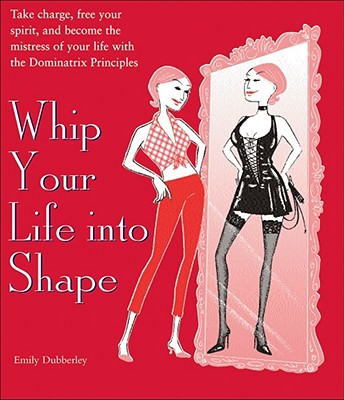 Whip Your Life Into Shape
Andrews McMeel Publishing, Paperback, 9780740754586, 112pp.
Publication Date: May 1, 2006
* Individual store prices may vary.
Buy at Local Store
Enter your zip code below to purchase from an indie close to you.
or
Not Currently Available for Direct Purchase
Description
Are you handcuffed to the kitchen sink while the people around you take charge and achieve their goals? Is your relationship with the man in your life more slippers and cocoa than stilettos and Häagen-Dazs? It's time to crack the whip and start striding toward your new life with Whip Your Life into Shape!
Practical, applicable advice from a dominatrix? You bet. It doesn't matter if you are a frazzled executive or stressed-out mother of four. From the boardroom to the bedroom, Whip Your Life into Shape! will invigorate, arouse, and inspire you to take control over your own life.
Women today must champion themselves, whether in the workplace or at home. The word dominatrix conjures up an immediate image of an in-charge, desirable woman. Isn't that what we all want to be? Whip Your Life into Shape! offers direct, no-nonsense advice from dominatrices the world over on topics such as how to deal with a chauvinist mechanic, how to manage your finances, and, of course, how to get what you want in bed. You don't need whips, four-inch heels, or leather to strut through life (although they couldn't hurt).
Whip Your Life Into Shape! will raise your self-esteem and help you rediscover yourself and reevaluate your everyday actions. Put yourself back in charge of your own life!
About the Author
Emily Dubberley is a British author and journalist specialising in sex and relationships. She founded women's sex website Cliterati (www.cliterati.co.uk) in 2001 and is the founding editor of Scarlet, a sex magazine for women that launched in September 2004. Emily has written for numerous publications including More, New Woman, Elle, Men's Health, Forum, The Guardian, Penthouse, The Star, and Glamour. She wrote the four most recent Lovers' Guide videos, edited the Lovers' Guide magazine and helped create www.loversguide.com. She is the editor of EK (Erotic Knave) magazine, sex agony aunt for Look magazine, and book and gadgets editor for Scarlet. She lives in London. Visit her online at www.dubberley.com.