Mo' Urban Dictionary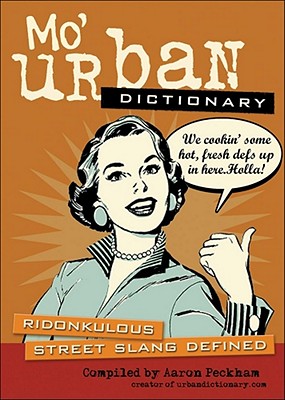 Mo' Urban Dictionary
Ridonkulous Street Slang Defined
Andrews McMeel Publishing, Paperback, 9780740768750, 240pp.
Publication Date: October 1, 2007
* Individual store prices may vary.
Buy at Local Store
Enter your zip code below to purchase from an indie close to you.
or
Not Currently Available for Direct Purchase
Description
I have seen the future of slang dictionaries, and its name is urbandictionary.com." --Times (London)
* Move over Merriam-Webster, Oxford, and American Heritage; your version of truthiness has hit the marble ceiling.
Compiled from the wildly popular Web site urbandictionary.com, Mo' Urban Dictionary: Ridonkulous Street Slang Defined includes more than 2,000 of the latest contemporary slang entries.
* Since the site's founding in 1999, more than 2.5 million definitions have been submitted. Thousands of new words and definitions are added each day.
* Each alphabetized entry includes a word, a definition, and a sample sentence.
Applejacked: Having your Apple iPod stolen. "Dude, on the train last night I totally got Applejacked!"
bacon bit: A rent-a-cop; not good/important enough to be referred to as a "pig" or "bacon." "I thought we'd be in trouble when the 5-0 started rollin' up, but then I realized it was just the bacon bits--mall security."
cruiser spoon: To park two police cruisers with the drivers' sides adjacent so that the officers can converse through the open windows. "Better slow down, the po-po are cruiser spooning in the parking lot ahead."
About the Author
Founded in 1999 by college student Aaron Peckham as a parody of the dictionary, UrbanDictionary.com features definitions written by people from all over the world. Since then, Urban Dictionary has been cited in court, in graduation speeches, and by countless media outlets, including CNN and Time magazine. Aaron listens for the newest words and phrases in the San Francisco Bay area.
Online:
UrbanDictionary.com