My Nepenthe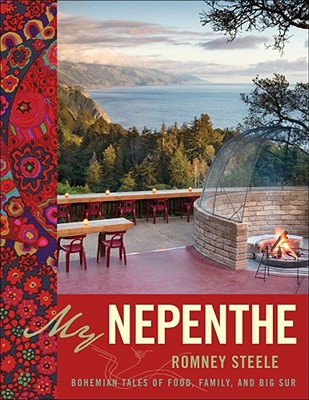 My Nepenthe
Bohemian Tales of Food, Family, and Big Sur
Andrews McMeel Publishing, Hardcover, 9780740779145, 338pp.
Publication Date: November 1, 2009
* Individual store prices may vary.
Buy at Local Store
Enter your zip code below to purchase from an indie close to you.
or
Not Currently Available for Direct Purchase
Description
"A very special book about a very special place." --Michael Pollan, author of "The Omnivore's Dilemma" and "In Defense of Food"
"What a world Romney Steele has given us in "My Nepenthe" This personal tale is as tender and bright as a bite of Nepenthe Cheese Pie and will transport me--and you--to Big Sur and the days and nights of this magical place. "My Nepenthe" serves a big, gorgeous slice of American culture that I loved visiting through words and memory." --Deborah Madison, author of "What We Eat When We Eat Alone" and "Vegetarian Cooking for Everyone"
"Romney Steele grew up in the lively bohemian milieu of Nepenthe on the Big Sur coast and knows all the stories worth telling. In "My Nepenthe," an intimate, richly illustrated memoir with recipes culled from the restaurant's 60 years, she writes marvelously about her "crazy stew of a family" and especially her beloved grandmother, whose kindness and hospitality were legendary. --Caroline Bates, contributing editor, "Gourmet" magazine
My Nepenthe weaves together stories and tales about the famous California restaurant perched on the majestic cliffs of Big Sur. It celebrates the magic and history of place through food and the Fassett family who started Nepenthe.
A lyrical feast written by the owners' granddaughter, Romney Steele, who grew up at the restaurant, "My Nepenthe" is as much about a family enterprise as it is about the Fassett family and their legacy. It recounts stories about the family's more than sixty-year history on the coast, the arts and architecture, and the colorful people who were the genesis of this legendary restaurant.
"My Nepenthe" marks the restaurant's vibrant past as a gathering place and noted bohemian haunt, and its foray into the film industry during the shooting of "The Sandpiper," featuring Elizabeth Taylor and Richard Burton. It also explores the lively scene that played out into the '70s, and onward through the current decade where it showcases Nepenthe's unique relationship with Pisoni Vineyards, owned by the renowned winemaker family. "My Nepenthe" includes more than seventy-five special recipes from the Fassetts, the restaurant, and the cafe, along with spectacular photography that completes the tale.
Ultimately, "My Nepenthe" is a story about food, family, and the culture of place, and how it all unfolds around the table and why that matters.
About Nepenthe
Located on the Big Sur cliffs 808 feet above the Pacific Ocean, Nepenthe Restaurant boasts sweeping views of the rugged Santa Lucia Mountains and the wild south coast of Monterey County. Angular mountains plunge into the crashing surf below, and on a clear day there is no limit to the scenery, unspoiled and immense in nature. Opened in 1949 by the Fassett family, the restaurant is nestled among native oak trees and a historic log cabin (now faced by brick) that was once owned by Orson Welles and Rita Hayworth.
About the Author
Romney Steele is a writer and cook, the granddaughter of Bill and Lolly Fassett, creators of Nepenthe Restaurant. Nani, as she is known to family and friends, grew up at the family restaurant and opened Cafe Kevah, located on the grounds of Nepenthe. She is the co-owner and cook of The Cook and Her Farmer, a cafe, oyster, and wine bar located in the historic Swan's Market in Oakland, California. She is also the author of Plum Gorgeous. She has two children.

Ethel Brennan is a writer and photography stylist. When she was a child, she and her family lived in Provence, where her parents owned a goat cheese farm. Although her family returned to California while she was still young, most of her childhood summers were spent traveling in France from Paris to the rustic countryside of Provence where her parents kept the farmhouse. She is now based in San Francisco and travels frequently to France with her twin boys and French husband. She is the author of "Herbes de Provence", "Baby Gifts" and co-author of "Citrus", "Sun Dried Tomatoes", "Goat Cheese", "A Children's Kitchen Garden" and most recently "At the Farmers' Market with Kids". Sara Remington is an award-winning food and travel photographer based in San Francisco. She has photographed over 30 cookbooks, including "The Blue Chair Jam Cookbook" by Rachel Saunders, "My Calabria" by Rosetta Costantino, "The Mozza Cookbook" by Nancy Silverton, "The Wild Table" by Connie Green, "Plum Gorgeous" by Romney Steele, and "Vino Argentino" by Laura Catena. She was nominated for a James Beard Award for her photography in "The Blue Chair Jam Cookbook" and continues to travel the globe shooting for publishing companies, editorials, and advertising. Her work is inspired by the tactile and visual experiences of her childhood road trips in the United States and France.