Cross Bones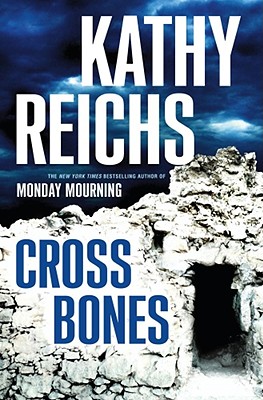 Cross Bones
Scribner Book Company, Hardcover, 9780743233484, 368pp.
Publication Date: June 28, 2005
* Individual store prices may vary.
Buy Now
or
Shop Local
Enter your zip code below to purchase from an indie close to you.
Description
A gripping and explosive new thriller from internationally acclaimed forensic anthropologist and New York Times bestselling author Kathy Reichs, featuring Temperance Brennan and Detective Andrew Ryan on the trail of a modern murder and an ancient biblical mystery...


When an Orthodox Jewish man is found shot to death in Montreal, Temperance Brennan is called in to examine the body and to figure out the puzzling damage to the corpse. Unexpectedly, a stranger slips her a photograph of a skeleton and assures her it is the key to the victim's death. Before she knows it, Tempe is involved in an international mystery as old as Jesus, and one that could lead to the rewriting of two thousand years of religious history.


As Tempe investigates, she learns that the stranger's picture shows bones uncovered during an archaeological dig. She discovers the Montreal shooting victim ran an import business that just might have been a front for the trading of black market antiquities. Along with Detective Andrew Ryan and biblical archaeologist Jake Drum, Tempe travels to Israel to probe the origins of the skeleton and the ancient crypt in which it was found. Together they make a startling discovery that raises radical questions about Christ's death and places them squarely in the middle of a swirling controversy. Could one of the tombs really be Christ's last resting place? Are the bones in the ancient ossuary the last remnants of James, the brother of Jesus, as the inscription claims? Or has someone concocted an elaborate hoax?


Using her skills as a forensic scientist, Tempe plunges into the most controversial case of her career. The stakes have never been higher -- the more she learns, the greater the danger. And though Ryan is sexier and more engaging than ever, he may not be able to protect Tempe in this place where there seem to be so many foes.


Cross Bones, with its lightning pace, intricately plotted story, riveting and state-of-the-art forensic detail, is Kathy Reichs's most compelling and dramatic novel yet.
About the Author
Kathy Reichs is the author of eighteen "New York Times" bestselling novels featuring forensic anthropologist Temperance Brennan. Like her protagonist, Reichs is a forensic anthropologist one of fewer than one hundred ever certified by the American Board of Forensic Anthropology. A professor in the Department of Anthropology at the University of North Carolina at Charlotte, she is a former vice president of the American Academy of Forensic Sciences and serves on the National Police Services Advisory Council in Canada. Reichs s own life, as much as her novels, is the basis for the TV show "Bones", one of the longest-running series in the history of the FOX network.
Praise For Cross Bones…
"Such bloody good beach reading."

-- USA Today



"There's nothing like a morgue mystery to brighten up a summer day."

-- Entertainment Weekly



"Likely to leave you with the shivers of an ice storm."

-- People



"As good as Cornwell at her best."

-- Detroit Free Press



"The science is fascinating, and every minute in the morgue with Tempe is golden."

-- Marilyn Stasio, The New York Times Book Review