Sex, Drugs, and Cocoa Puffs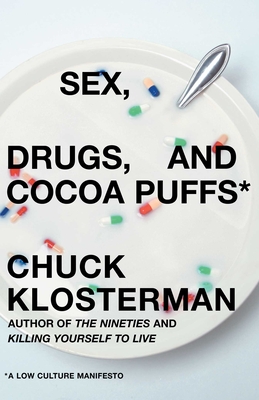 Sex, Drugs, and Cocoa Puffs
A Low Culture Manifesto
Scribner Book Company, Hardcover, 9780743236003, 256pp.
Publication Date: August 26, 2003
* Individual store prices may vary.
Buy at Local Store
Enter your zip code below to purchase from an indie close to you.
or
Buy Here
Description
From the kid who brought you Fargo Rock City -- the first book in history to garner the praise of Stephen King, David Byrne, Donna Gaines, Sebastian Bach, Jonathan Lethem, and Rivers Cuomo -- comes Sex, Drugs, and Cocoa Puffs -- the first book in history to examine breakfast cereal, reality television, tribute bands, Internet porn, serial killers, and the Dixie Chicks.


Countless writers and artists have spoken for a generation, but no one has done it quite like Chuck Klosterman -- with an exhaustive knowledge of popular culture and a seemingly effortless ability to spin brilliant prose out of unlikely subject matter. Whether deconstructing Saved by the Bell episodes or the artistic legacy of Billy Joel, the symbolic importance of The Empire Strikes Back or the Celtics/Lakers rivalry of the 1980s, Chuck will make you think, he'll make you laugh, and he'll drive you insane -- usually all at once.


Sex, Drugs, and Cocoa Puffs is ostensibly about movies, sports, television, music, books, video games, and kittens...but, really, it's about us. All of us. As Klosterman realizes late at night, in the moment before he falls asleep, "In and of itself, nothing really matters. What matters is that nothing is ever 'in and of itself.'"
About the Author
Chuck Klosterman is the "New York Times" bestselling author of seven previous books, including "Sex, Drugs, and Cocoa Puffs"; "Eating the Dinosaur"; "Killing Yourself to Live"; and "The Visible Man". His debut book, "Fargo Rock City", was the winner of the ASCAP-Deems Taylor Award. He has written for "GQ, Esquire", "Spin, The Washington Post, The Guardian, The Believer, "and" The Onion A.V. Club". He currently serves as The Ethicist for the "New York Times Magazine" and writes about sports and popular culture for ESPN.
Praise For Sex, Drugs, and Cocoa Puffs…
Gary Shteyngart
author of The Russian Debutante's Handbook

The funniest thing I've read in an ice age...Chuck Klosterman is a Gulliver among the cult-crit Lilliputians. America should wrap her freckled arms around Klosterman's scrawny neck and press him to her bosom. He may be the last true patriot among us.


Bob Odenkirk
of Mr. Show

Chuck Klosterman has the time and inclination to think through the issues that you didn't even know were issues. Laugh at him, or with him, or both...but you will laugh, dammit, you will laugh.