Sex, Drugs, and Cocoa Puffs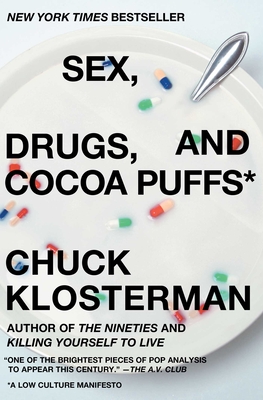 Sex, Drugs, and Cocoa Puffs
A Low Culture Manifesto
Scribner Book Company, Paperback, 9780743236010, 253pp.
Publication Date: July 2004
* Individual store prices may vary.
Buy Now
or
Shop Local
Enter your zip code below to purchase from an indie close to you.
Description
From the author of the highly acclaimed heavy metal memoir, "Fargo Rock City," comes another hilarious and discerning take on massively popular culture--set in Chuck Klosterman's den and your own--covering everything from the effect of John Cusack flicks to the crucial role of breakfast cereal to the awesome power of the Dixie Chicks.
Countless writers and artists have spoken for a generation, but no one has done it quite like Chuck Klosterman. With an exhaustive knowledge of popular culture and an almost effortless ability to spin brilliant prose out of unlikely subject matter, Klosterman attacks the entire spectrum of postmodern America: reality TV, Internet porn, Pamela Anderson, literary Jesus freaks, and the real difference between apples and oranges (of which there is none). And don't even get him started on his love life and the whole Harry-Met-Sally situation.
Whether deconstructing "Saved by the Bell" episodes or the artistic legacy of Billy Joel, the symbolic importance of "The Empire Strikes Back" or the Celtics/Lakers rivalry, Chuck will make you think, he'll make you laugh, and he'll drive you insane--usually all at once. "Sex, Drugs, and Cocoa Puffs" is ostensibly about art, entertainment, infotainment, sports, politics, and kittens, but--really--it's about us. All of us. As Klosterman realizes late at night, in the moment before he falls asleep, "In and of itself, nothing really matters. What matters is that nothing is ever 'in and of itself.'" Read to believe.
About the Author
Chuck Klosterman is the "New York Times" bestselling author of seven previous books, including "Sex, Drugs, and Cocoa Puffs"; "Eating the Dinosaur"; "Killing Yourself to Live"; and "The Visible Man". His debut book, "Fargo Rock City", was the winner of the ASCAP-Deems Taylor Award. He has written for "GQ, Esquire", "Spin, The Washington Post, The Guardian, The Believer, "and" The Onion A.V. Club". He currently serves as The Ethicist for the "New York Times Magazine" and writes about sports and popular culture for ESPN.
Praise For Sex, Drugs, and Cocoa Puffs…
The Onion a.v. club One of the brightest pieces of pop analysis to appear this century.

GQ Quintessential Klosterman -- sometimes exasperating but almost always engaging.

San Francisco Chronicle The reigning Kasparov of pop culture wits-matching.

The Washington Post Maddeningly smart and funny...[Klosterman's] good humor, compassion, and raw associative powers put him in the same league as Nick Hornby and Douglas Coupland, though he's a more tenacious critic than either.