Gardening in Eden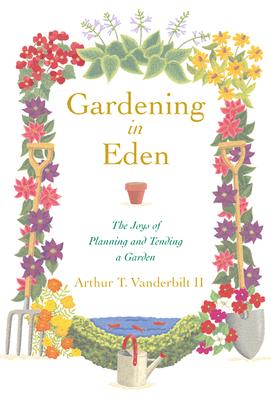 Gardening in Eden
The Joys of Planning and Tending a Garden
Simon & Schuster, Hardcover, 9780743241809, 208pp.
Publication Date: February 18, 2003
* Individual store prices may vary.
Not Currently Available for Direct Purchase
or
Shop Local
Enter your zip code below to purchase from an indie close to you.
Description
"Though an old man," Thomas Jefferson wrote at Monticello, "I am but a young gardener."
In "Gardening in Eden," we enter Arthur T. Vanderbilt's small enchanted world of the garden, where the old wooden trestle tables of a roadside nursery are covered in crazy quilts of spring color, in pansies with crayon-yellow noses and eyes and mouths painted on as if with water colors and india ink; where a catbird comes to eat raisins from one's hand, and a chipmunk demands a daily ration of salted cocktail nuts; where ferns, like cats, leisurely, luxuriously stretch out in the warm spring sun and tulips, luscious as lollipops, dance in one's winter dreams.
Vanderbilt has gardened for over twenty years at his home in northern New Jersey, and in this familiar, small-scale suburban setting he finds the extraordinary and teaches us about the delights, joys, and occasional disappointments of gardening.
In this celebration of life, we journey with the author through the four seasons of the gardening year. We feel the oppressiveness of endless winter days, the magic of an old-fashioned snow day, the heady, healing qualities of wandering through a greenhouse on a frozen February afternoon, the restlessness of a gardener waiting for spring.
We hear the spring peepers down in the swamps around Surprise Lake and play hooky to go to the nursery on a day when a warm breeze is pushing the clouds across the sky.
We experience firsthand the front lines of battle against the enemy gangs gathered at the garden's borders, the winged and stealthy destroyers of plants and flowers. We hear the field crickets and katydids prophesy of summer's end and watch marmalade leaves drift to earth and, later, theskeletal branches of bare trees claw at the twilight sky like the bony arms and grasping fingers of a witch. Together, we share in seasons of trial and error, of creating and maintaining a garden, of great plans laid and gone awry, of crushing defeats and tiny victories and unexpected insights into nature.
With a sense of wonder and humor on each page, Arthur Vanderbilt takes us along with him to discover that for those who wait, watch, and labor in the garden, it's all happening right outside our windows.
This is that rare book on gardening that will carry the gardener through the long winter months and help him or her plan for what to do when the snow melts and the gardening seasons begin again.
About the Author
Attorney, author, avid gardener, Arthur T. Vanderbilt II practices law in New Jersey and is the author of many works of nonfiction, including Fortune's Children, Golden Days, and The Making of a Bestseller. He lives in northern New Jersey.