Tom Valenti's Soups, Stews, and One-Pot Meals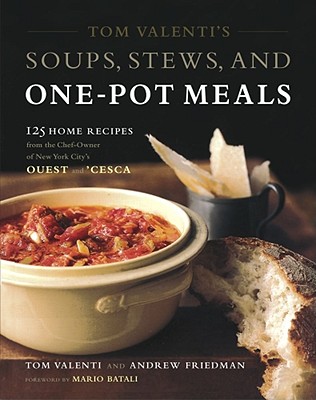 Tom Valenti's Soups, Stews, and One-Pot Meals
125 Home Recipes from the Chef-Owner of New York City's Ouest and 'Cesca
Scribner Book Company, Hardcover, 9780743243759, 288pp.
Publication Date: October 2003
* Individual store prices may vary.
Buy Now
or
Shop Local
Enter your zip code below to purchase from an indie close to you.
Description
This is the way we love to eat -- slowly braised, cut-with-a-spoon-tender meat resting in aromatic juices just waiting for the perfect piece of bread to come along and sop it up; a steaming bowl of chowder filled with chunks of fish and potatoes in rich broth laced with the smoky-sweet-salty flavor of bacon; a casserole that's spent some serious time in the oven as layer upon layer of creamy, soft cheese, pasta, herbs, and meat meld into a delectable whole.
And as luck would have it, this is the way celebrated New York City chef Tom Valenti "loves" to cook. Considered Manhattan's grandmaster of comfort food, Valenti has made this beloved cooking his trademark. In fact, on any given night, you'll find him in his wildly successful Upper West Side restaurants Ouest and 'Cesca feeding the world's A-list -- Bill Clinton, Steven Spielberg, Charlie Rose, Jerry Seinfeld, Judy Collins, Joan Didion. Because, of course, this is the food they "love" to eat, too.
In "Tom Valenti's Soups, Stews, and One-Pot Meals, " Valenti and coauthor Andrew Friedman dish up the flavor we've come to expect from a New York chef, without any of the fuss. This is food that gets better a day or two after it's made, food to make on the weekend and savor throughout a busy week, food that is perfect for dinner parties and family celebrations.
Here are 125 realistic recipes for the home cook -- most made in one pot -- and all based on the fact that the right ingredients, left alone to cook in a single vessel with virtually no intervention from the cook, steadily build glorious flavor and leave far fewer pots to clean.
The book includes "Variations" and "Tomorrow's Table," tips on ways to embellish a dish by adding vegetables or meats or provide economy by stretching it into another satisfying meal by simply adding another ingredient. Valenti and Friedman embrace what they term "cooking in the real world," encouraging home cooks to use canned stocks and beans whenever appropriate. They discuss key ingredients; offer a section on condiments, garnishes, and accompaniments; provide a list of mail-order sources; and recommend cookware (though you won't need a lot).
About the Author
Tom Valenti is the chef-owner of New York's acclaimed restaurant, Ouest, and the just-opened, the West Branch. He was diagnosed with diabetes over ten years ago, and after undergoing various stages of denial, anger, and resignation, created a diabetic cuisine that doesn t skimp on flavor. He lives in New York City with his wife.
LAURENT TOURONDEL, former chef at the acclaimed New York seafood restaurant Cello, is chef and owner of the newly launched BLT Steak, also in New York. He has been profiled in many national magazines, including the New York Times, Gourmet, and Food & Wine, and has been a featured guest on television shows, including Cooking Live and Follow That Food.
ANDREW FRIEDMAN is the coauthor of a number of cookbooks, including the award-winning Alfred Portale's Gotham Bar and Grill Cookbook, Da Silvano Cookbook, and Tom Valenti's Welcome to My Kitchen.
Mario Batali is the James Beard Award-winning author of eight cookbooks, including Molto Batali, Molto Gusto, Molto Italiano, and Spain...A Culinary Road Trip, as well as the app Mario Batali Cooks! With a host of television shows to his name; fifteen restaurants; and Eataly, a fifty-thouasand-square-foot Italian marketplace in New York City's Flatiron District that he co-owns with his partner, Joe Bastianich, Mario Batali is one of the most recognized and most respected chefs working in America today. Mario splits his time between New York City's Greenwich Village and northern Michigan with his wife and their two sons.
Praise For Tom Valenti's Soups, Stews, and One-Pot Meals…
Bobby Flay Chef-owner of Mesa Grill and Bolo and host of the Food Network's Boy Meets Grill and FoodNation I crave the lusty and gutsy flavors of Tom Valenti's food twelve months a year. Now, instead of trying to steal his dishes from his menu, I have them all right here in Tom Valenti's Soups, Stews, and One-Pot Meals.

Lidia Bastianich Chef-owner of Felidia, Becco, and Lidia's and host of Public Television's Lidia's Italian-American Kitchen and Lidia's Italian Table If you enjoy the mellow, velvety, complex, and succulent flavors that come from one-pot meals cooked slowly, this is the book to have.